---
Tri-pot terrarium perfect for starting seeds or housing tropical & carnivorous plants
One-of-a-kind design with a marbled finish base
Comes in a bright, fun gift box
Lightweight, fade-resistant, shatter-resistant, and UV-protected
Base made with Artstone material, a durable blend of stone & resin
Dome is made from high-grade acrylic for clarity and durability
Adjustable vent on top of the removable dome to control internal humidity
Made with BPA-free, recycled materials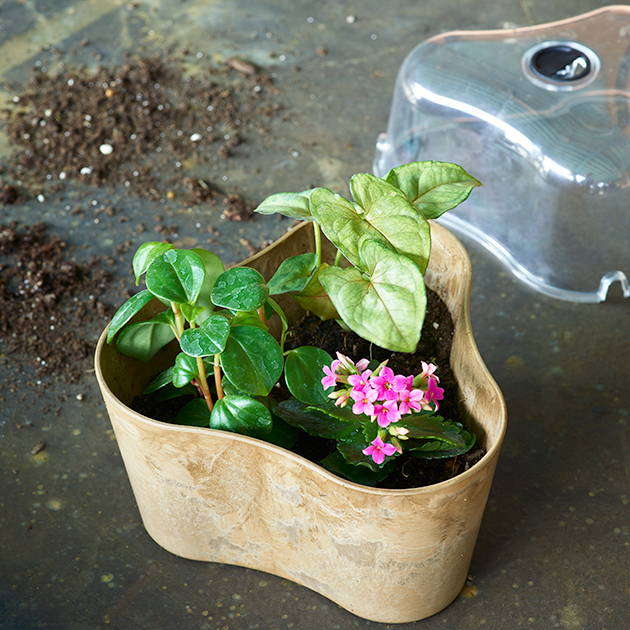 ---
---
The Tri-Pot Sprout House Terrarium is the perfect vessel for starting seeds, creating a mini tropical garden, housing carnivorous plants, or growing succulents. The removable, acrylic dome creates a greenhouse environment and features an adjustable vent, allowing you to create a range of moisture to keep your plants happy. This planter is great on table tops, shelves, and windowsills.
Artstone's lightweight and durable blend of stone and resin gives the planter a natural surface pattern that will look amazing with your decor. It includes an optional self-watering insert, the Water-Minder, to keep plants hydrated with less frequent watering. Easily remove the Water-Minder for plants which require dry soil. The Tri-Pot Terrarium makes a delightful gift for both skilled and novice gardeners.
---
---
How should I pot my plant?
Since this terrarium is quite versatile, follow the plant's instructions on the appropriate recommended layering of potting media. For most plantings, add a small amount of activated charcoal on the bottom of the planter or on top of the insert. Then, top with a perlite medium, like small pebbles. Finish filling the planter to the bottom of the rim with a light to medium weight potting mix or the recommended potting medium for your plants. Routinely adding plant food, according to plant's directions, will dramatically increase the health, beauty and fullness of the plants in your Tri-Pot Sprout House Terrarium.
What is the Tri-Pot Terrarium made of?
The Tri-Pot Terrarium's base is constructed from Artstone material, which is a proprietary blend of resin, colorant, and crushed limestone. The result is a durable bottom planter that has a beautiful, marbled look. The dome lid is made from high-grade acrylic for clarity and durability.
Is the Tri-Pot Terrarium self-watering?
Yes! The Tri-Pot Terrarium has an optional self-watering system called the Water-Minder. This removable insert creates a sub-irrigated reservior at the bottom of the terrarium that allows water to seep through the screen. Your plants then absorb the water as needed. You can easily remove the insert for plants which require dry soil.
Does the Tri-Pot Terrarium have drainage holes?
There is a removable drainage plug on the bottom of the terrarium. This allows the water level to drop to the top of the overflow drain.
How much does the Tri-Pot Terrarium weigh?
The Tri-Pot Terrarium weighs approximately 1.5 lbs.
Where is the Tri-Pot Terrarium manufactured?
The Tri-Pot Terrarium is manufactured and imported from our partner in Malaysia.
Do you ship outside the United States?
We ship internationally to Canada only. We recommend using a freight forwarding service, such as DHL, if you wish to order and ship outside of the U.S. or Canada. All shipments from our facility must be sent to a U.S.- or Canadian-based address.
---
---
| | |
| --- | --- |
| Order Total | Shipping Charge |
| | |
| | |
*Flat rate and free shipping only apply within the Contiguous U.S. All other locations including AK, HI, US territories, Canada, and FPO/APO addresses require a custom shipping quote by contacting our Consumer Care team. Free shipping applies to standard ground shipping only.
PO Boxes - Please note that you must contact our Consumer Care team to place an order that ships to a PO box to ensure proper delivery. Failure to do so may result in a longer delivery time and additional shipping charges.
When will I receive my order?
An estimated range is provided at the top of this page. All items are shipped directly from our Lancaster, PA headquarters. Orders are typically processed and shipped in 1 business day via FedEx Home Delivery or USPS. You can also view this map from FedEx to estimate how long a shipment will take to arrive after it leaves our warehouse. We do not currently offer expedited shipping.
For more info, review our Shipping Policy and Return Policy in their entirety.
---