Our Artstone eco-friendly planters include a time-saving self-watering system. You'll never have to worry about watering again. These one-of-a-kind resin planters are made from a superior blend of stone & plastic.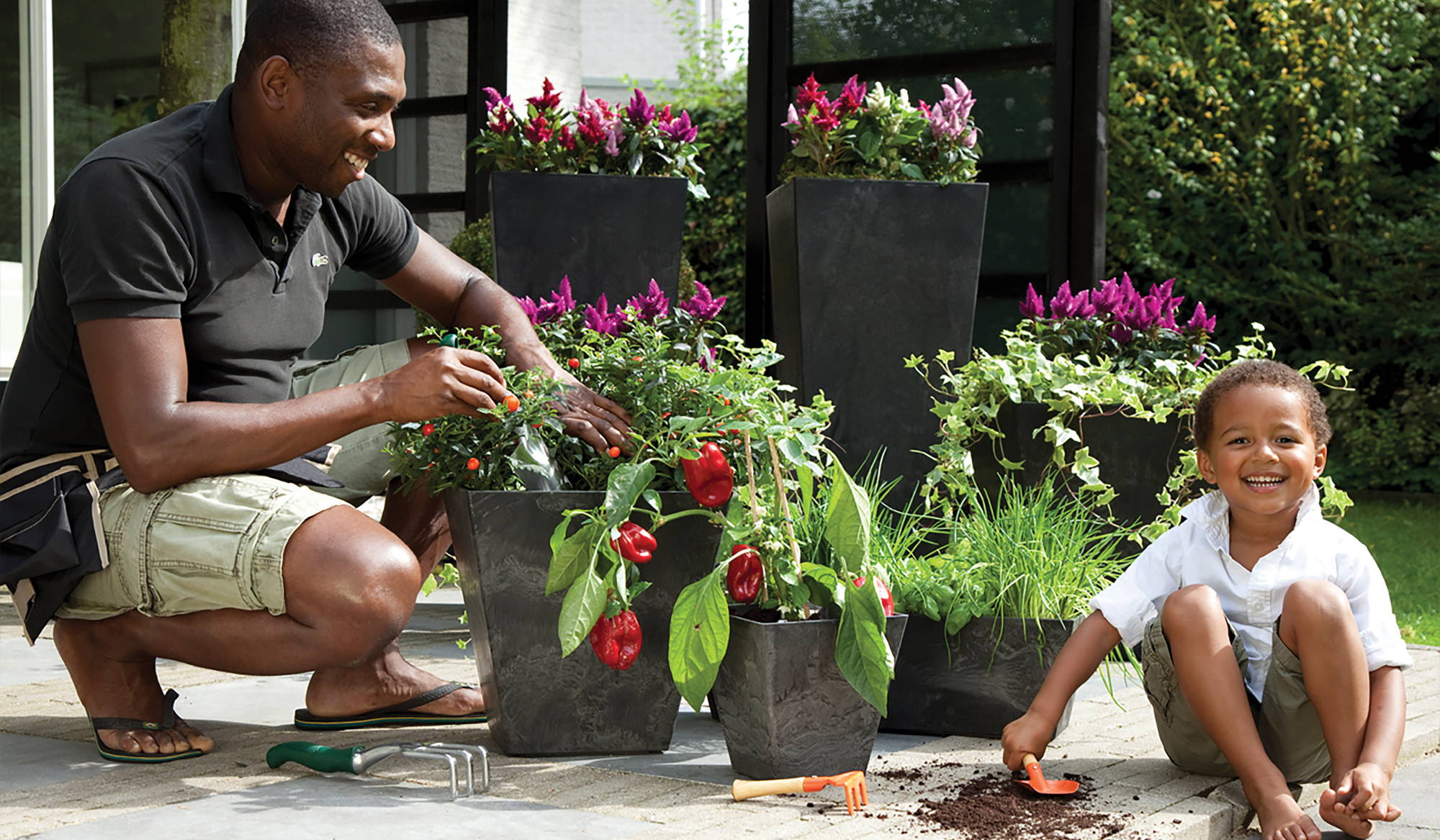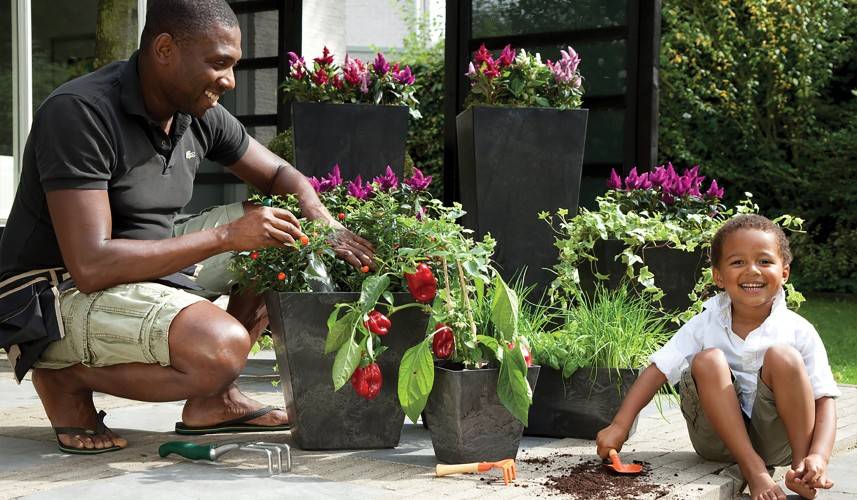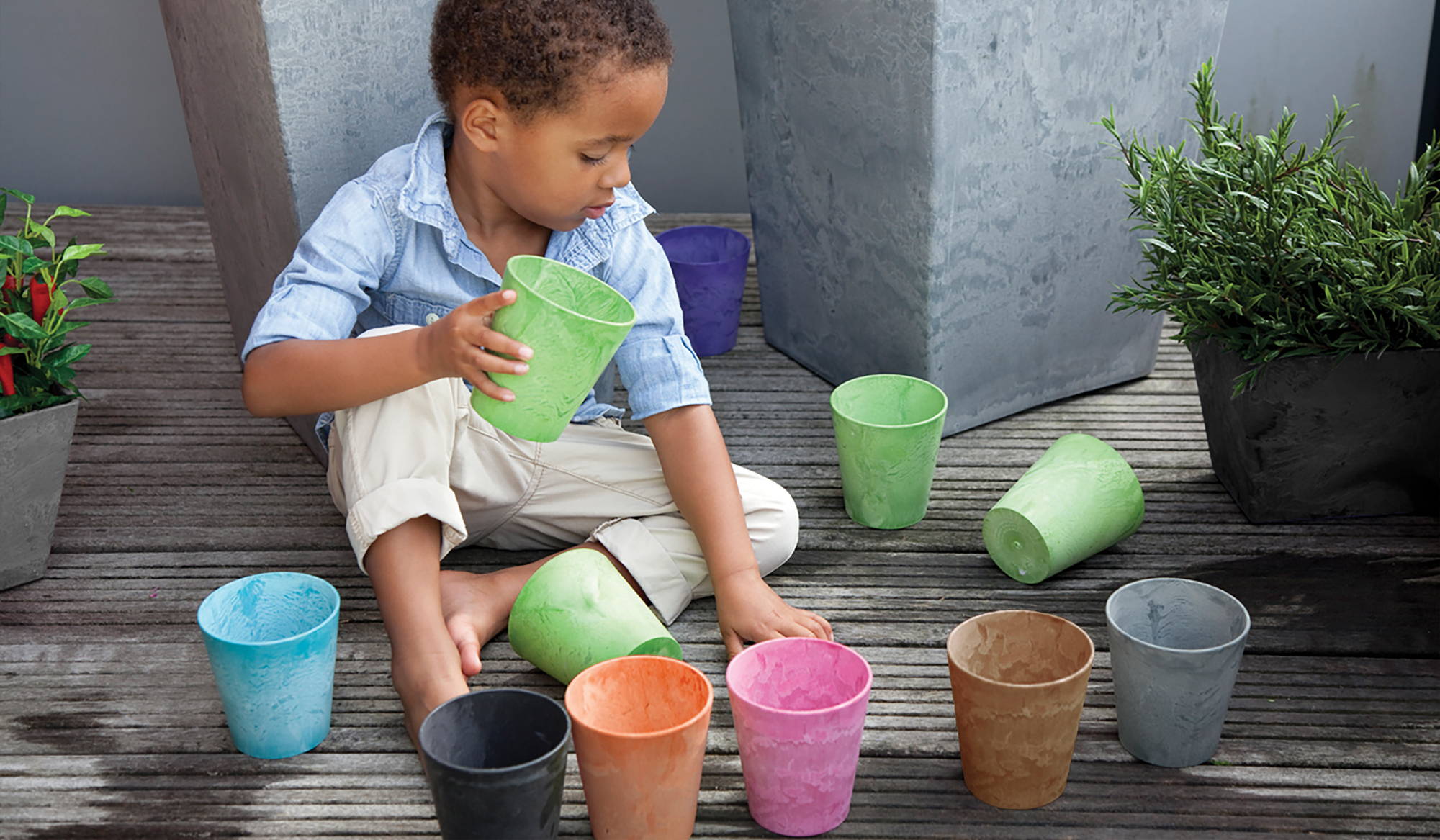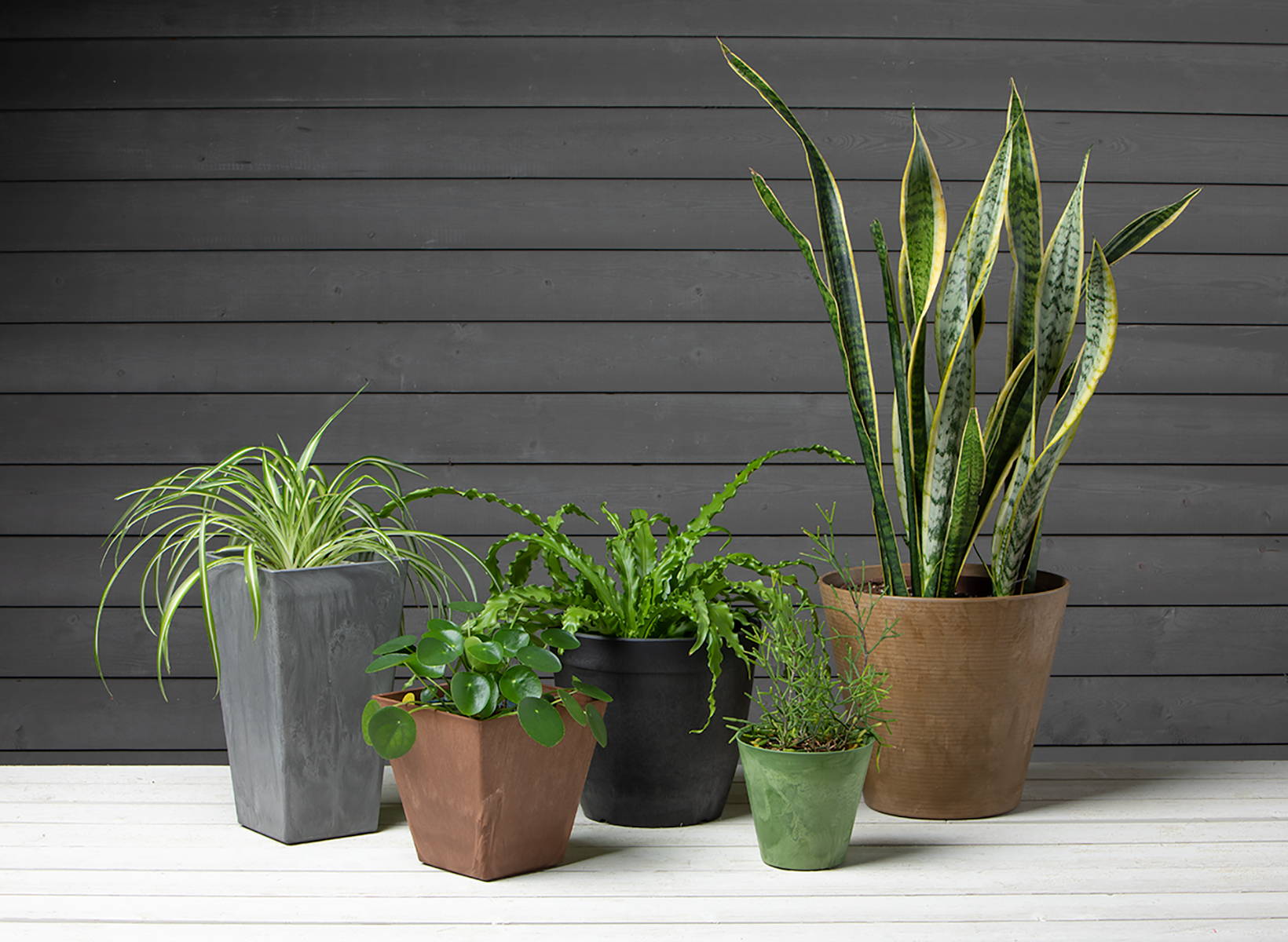 All our planters, including our Artstone collection, routinely get 5-star reviews. Read independently verified customer reviews and learn why our resin planters are growing in popularity! Or learn more about what makes resin planters so great.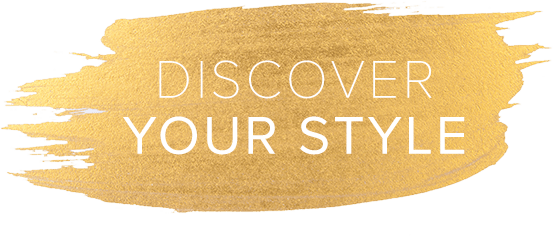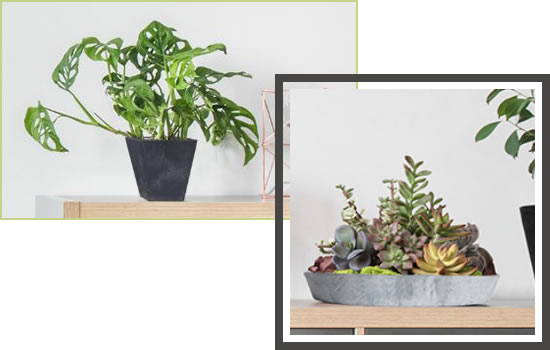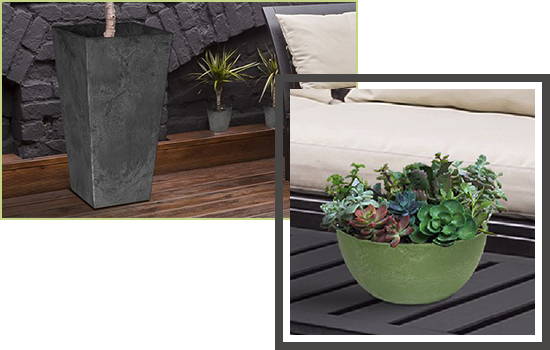 SELECT A STYLE:

clean lines &


timeless neutrals

A modern living room should always be stocked aplenty with plants and pillows. Cozy up with loved ones and enjoy time at home in style with one-of-a-kind Artstone planters. Transform your space!

SHOP THIS LOOK »
Self-Watering Resin Planters
Effortless Plant Care: Unlock the Benefits of Self-Watering Planters
Self-watering planters offer a convenient and efficient solution for maintaining healthy plants with minimal effort. These innovative containers provide numerous benefits for both experienced gardeners and beginners alike.
Plants receive consistent and optimal moisture by incorporating a self-watering mechanism, preventing over or under-watering. The planter includes a reservoir at its bottom, which stores water. It then gradually releases to the plant's roots through a wicking system.
This method saves time, reduces the watering frequency, promotes healthier root development, and minimizes the risk of plant stress and rot. Additionally, self-watering planters help conserve water by reducing wastage.
They also allow for greater flexibility in plant care, making them an excellent choice for busy individuals or those with limited gardening experience.
You can learn more about self-watering planters and how they make your gardening experience easier. And you'll be pleased to know that the planters are also eco-friendly.
Learn more about Root & Vessel Artstone planters with these frequently asked questions.
What are Artstone planters made of?
All our Artstone planters are constructed with a proprietary blend of recycled resin, colorant, and crushed limestone. This results in durable, weather-resistant planters that have a beautiful, marbled look throughout the material. Unlike other planters on the market with a painted finish, Artstone resin planters will never lose their pattern and can be used both indoors and outside.
Are Artstone planters self-watering?
Yes, all Root & Vessel Artstone resin planters 5½" and larger have a built-in self-watering system that we call the Water-Minder™. This removable insert creates a sub-irrigated reservoir at the bottom of the planter that allows water to seep through the screen. Your plants then absorb the water as needed.
Are these eco-friendly planters?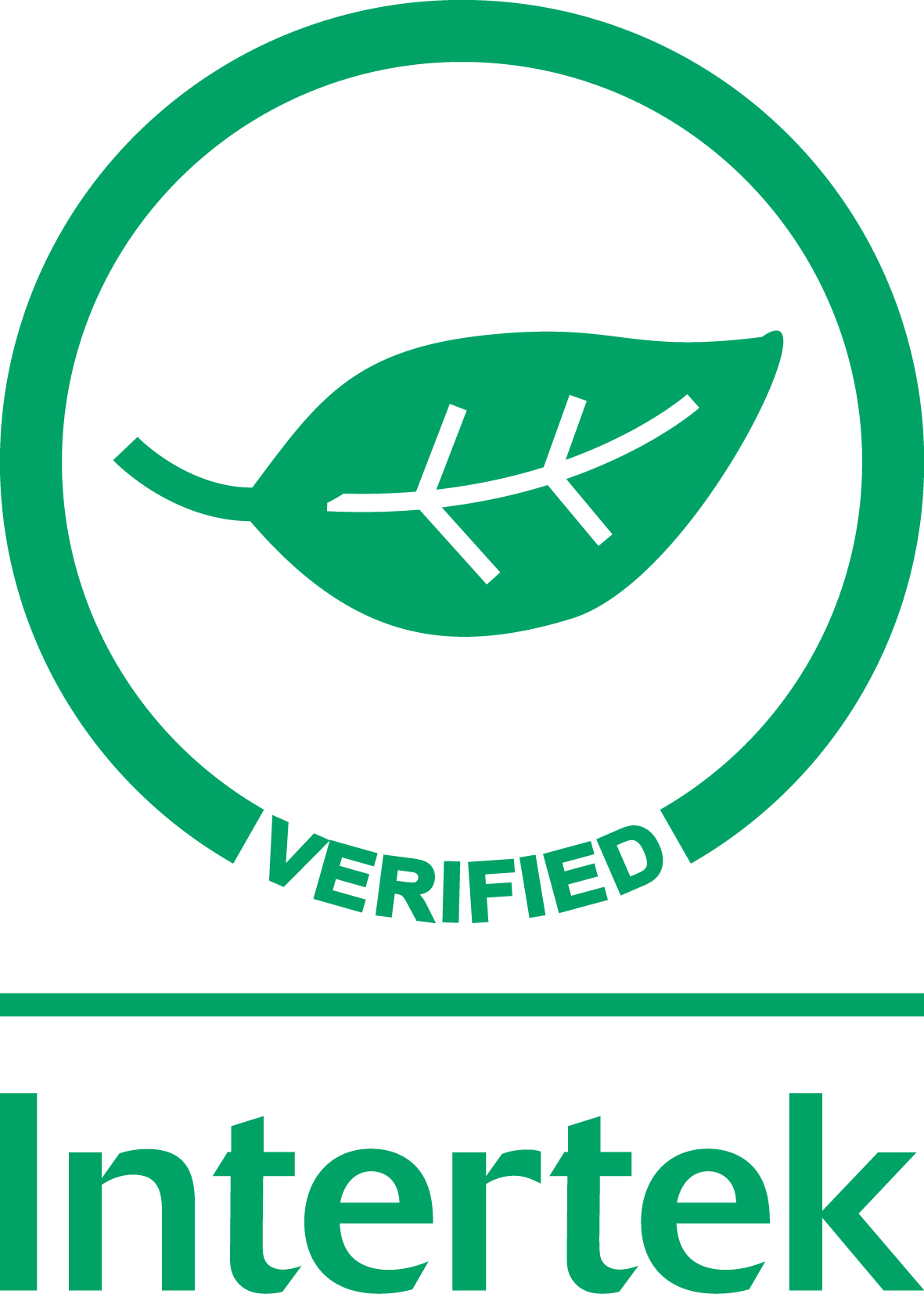 Yes! Artstone planters have been independently verified by Intertek to be made of at least 50% recycled materials. They've received Intertek's Green Leaf Mark, verifying them as eco-friendly planters.
How do Artstone resin planters prevent overwatering & underwatering?
All Root & Vessel Artstone planters 5½" and larger include the Water-Minder™. This self-watering feature prevents overwatering and underwatering as long as the drainage plug on the bottom of the planter is removed. This is because the water level will always drop to the top of the overflow drain. Your plant will then absorb the water as needed.
If you're worried about underwatering and/or if it's hard to tell if the plant is dry, then we recommend watering frequently to avoid any chance of underwatering. That ensures there is always water available in the reservoir. Just make sure the drainage plug is removed so that the water does not overfill the reservoir, potentially causing watering-logging and root rot.
Do Artstone planters have drainage holes?
Yes, all Artstone planters 5½" and larger have a removable drainage plug on their bottom. This allows the water level to drop to the top of the overflow drain.
When using an Artstone resin planter outdoors, remove the drainage plug to prevent water-logging and root rot.
Do I need a saucer or tray when using Artstone planters indoors?
A saucer is not needed when using our Artstone planters indoors unless you decide to remove the drainage plug from the bottom of the planter. The only downside to keeping the drainage plug in is that you have to be mindful of overwatering. That is because with the drainage plug left in, any excess water will no longer automatically drop to the top of the overflow drain.
How should I pot my plant in an Artstone planter?
Add a small amount of perlite medium on top of the Water-Minder area. Finish filling the planter to the planter's rim with a light to medium weight potting mix. Routinely adding plant food, according to the plant's directions, will dramatically increase the health, beauty, and fullness of the plants in your Artstone resin planter.
Are Artstone resin planters recyclable?
No. Although Root & Vessel Artstone planters are made with BPA-free, recycled materials, they are not recyclable since they contain crushed limestone.
How much do resin planters weigh?
Artstone resin planters are lightweight. The exact weight of an Artstone planter varies by size and style. Please refer to the product detail page for specifics on each Artstone style.
Where are Artstone planters manufactured?
Artstone planters are manufactured and imported from our partner in Malaysia.
Find inspiration via these images of Artstone planters from our Instagram.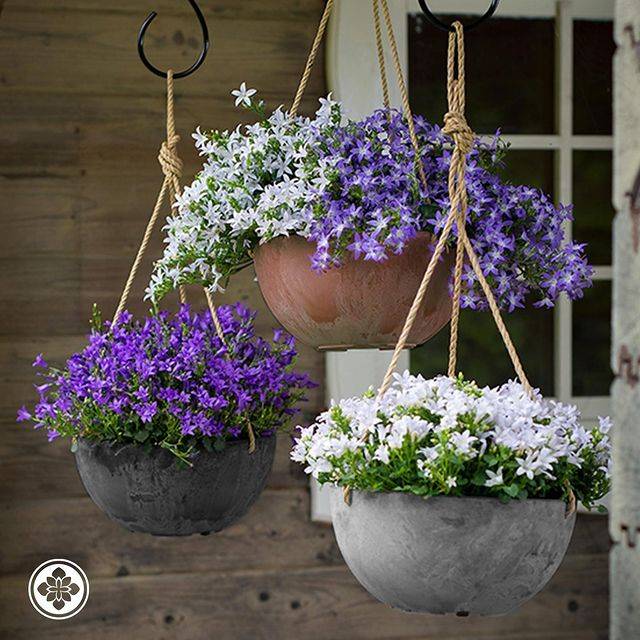 Indoors or outdoors, these Artstone Napa Hanging Bowls are a #CottageCoreStyle dream! Fill them with flowers, herbs, or vining plants and watch them grow big and beautiful.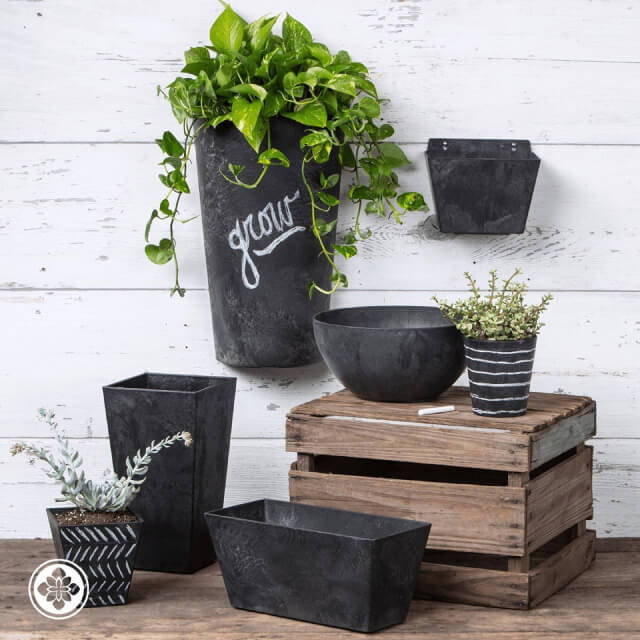 Did you know that you can use chalk to jazz up your Artstone planters for a new look? It looks particularly stunning on our black planters (shown here) and cleans off easily with water whenever you want to change things up!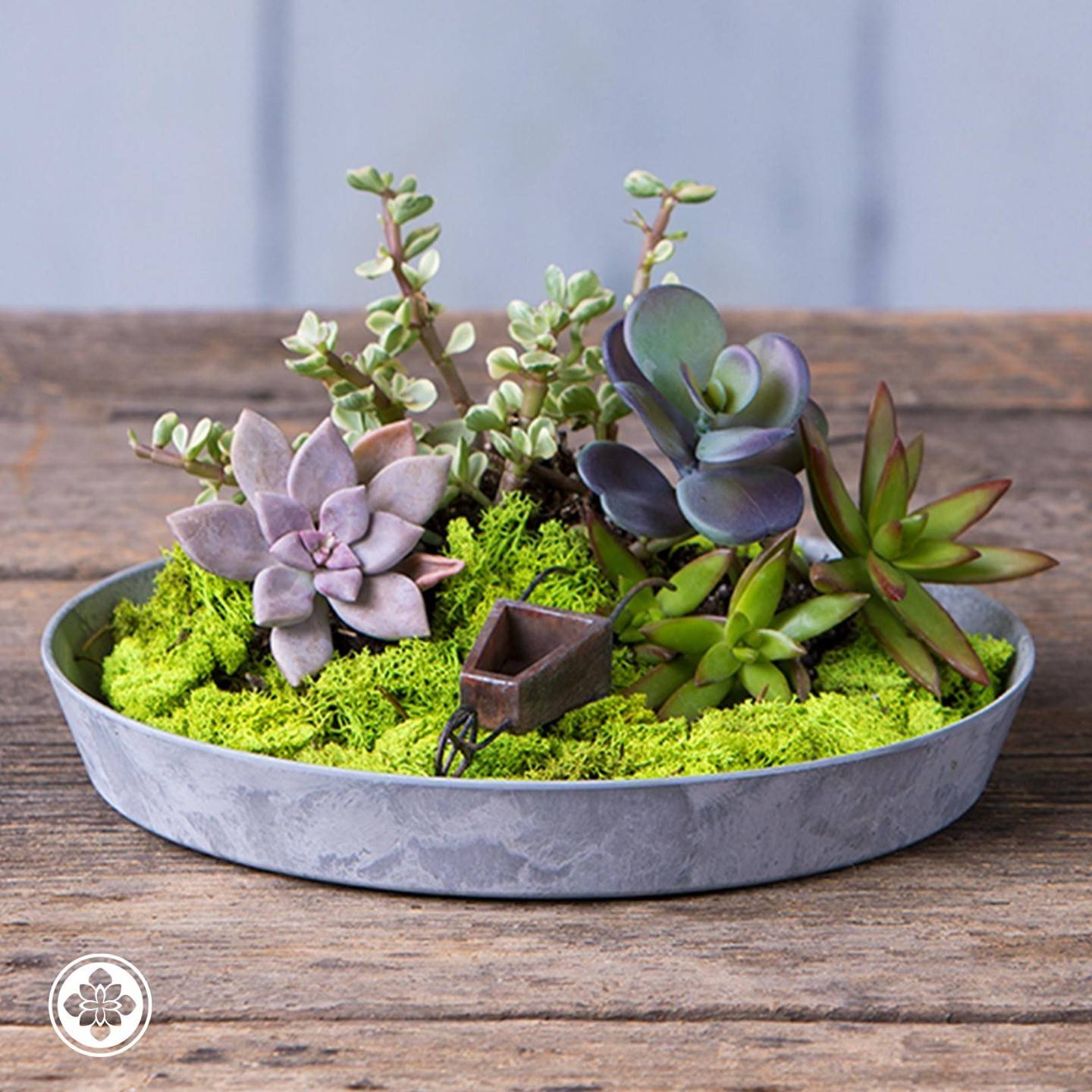 The Napa Tray Artstone planter is a long-standing customer favorite. Create a gorgeous #succulent landscape, use it to store your plant maintenance supplies – the possibilities are endless!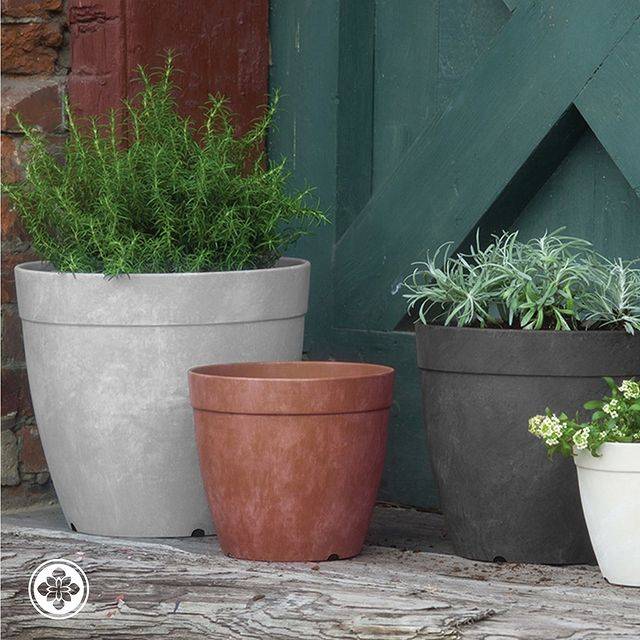 Our Artstone Dolce Round Planter is a modern staple for any decor style! Stylish and functional, the footed base encourages proper airflow and prevents overwatering. And, it can be used indoors or out to give it purpose all year long.