---
Railing Planter Features:
Space-saving design with a natural matte finish
Constructed with high-grade, durable plastic
Lightweight, fade-resistant, and shatter-resistant
Place on 2˝x 4˝ or 2˝x 6˝ railings – no tools needed!

Note: Base not adjustable; does not fit some curved/domed railings
Tip: Planter may move around until filled with growing media

Each railing planter includes 2 removable drainage plugs

Tip: There are also optional drill holes for drainage

BPA-free and recyclable
Proudly made in the USA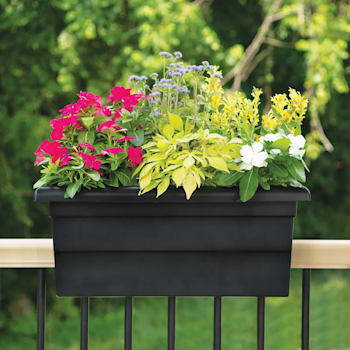 ---
---
Railing Planters Are Perfect for Gardeners with Limited Space
Not every gardener has a large landscape for planting their favorite plants. But don't be discouraged. If you have limited planting space, railing planters are the perfect solution. You can use them to grow plants on balconies, decks, or patios.
For example, add privacy to a small balcony space by filling a railing planter with tall and trailing plants to create a natural screen. Or capture nature's natural scents by using one for lavender, gardenia, sweet alyssum, or hyacinths.
Even if you have a fair amount of planting space, railing planters make a great addition to your outdoor space. After all, why let your deck space look barren if you can add a planter to help complement your outdoor landscape?


Deck Railing Planters Offer Numerous Possibilities
Your options with railing planters are endless. Use a couple at your entryway to add a burst of color that adds curb appeal to your home.
Or, if you want to spruce up your tired deck, add some planters with marigolds, coneflowers, snapdragons, salvia, or zinnias. You'll not only enjoy the floral display, but you'll also likely attract pollinators like hummingbirds, butterflies, and bees that are fun to watch.
Deck railing planters can also serve more practical purposes. For example, use them to plant your favorite herbs. Imagine having fresh herbs at your disposal. Even better, you grow some of your favorite vegetables, like peppers or cherry tomatoes, in a railing planter.


Create a Miniature Garden Using Railing Planters
Another beauty of railing planters is that you can control the sunlight. Place one deck railing planter in full sun to give sun-loving plants the energy they need to flourish.
Or use a shaded location to grow some of your favorite shade-loving plants like impatiens, begonias, and coleus.
In addition, you can create a garden oasis no matter how limited your space is. For example, deck railing planters pair nicely with flower window boxes, wall planters, and numerous other decorative planters. You can create your very own miniature garden.
Learn more about what to grow in railing planters by reading our blog.
Over the Railing Planters Make It Easy.
If you're not a fan of tools, you'll love our over-the-railing planters. No drilling. No hammering. No screw driving. No tools are required!
The straddle-style planter fits securely over standard railings – 2" x 4" or 2" x 6". All you have to do is fill the planter with your favorite potting mix, plant whatever you like, and you're ready to sit back and enjoy the results.
The planters stay securely in place over the railing. Just remember to remove the two rubber stoppers on the bottom of the planters for drainage.
You can also use our Countryside flower boxes as railing planters if you don't have standard railings. Just use brackets to mount them.


Our Planters Can Handle the Outdoors
It's essential to choose a railing planter that can handle your climate. So, if you face some gnarly conditions, you'll need a planter to take it.
Metal rail planters typically rust. Plus, they can leak toxic substances that harm your plants. Wood railing planters look great but often deteriorate, especially with poorer-grade woods. As a result, you'll have to maintain them by painting or sealing them.
Our railing planters are maintenance-free. We make them with a sturdy and fade-resistant, high-grade plastic blend. So they'll never lose their color or become brittle from sun exposure.
In addition, they're UV-protected and frost resistant. They won't absorb heat, so your plants will stay cooler and require less watering.
Best of all, our railing planters are made in the USA.
---
---
Does the Countryside Railing Planter fit any railing?
The Countryside Railing Planter fits most 2˝x 4˝ or 2˝x 6˝ railings without needing tools. However, please note that it does not fit some curved/domed railings, at least not without some extra effort and tools. Also keep in mind that the planter may move around a little until you fill it with growing media. If it still moves after that, you can stabilize the planter by using some kind of wedge, like small pieces of wood, to fill in the gaps. That step shouldn't be needed unless your railings are narrower than we recommend.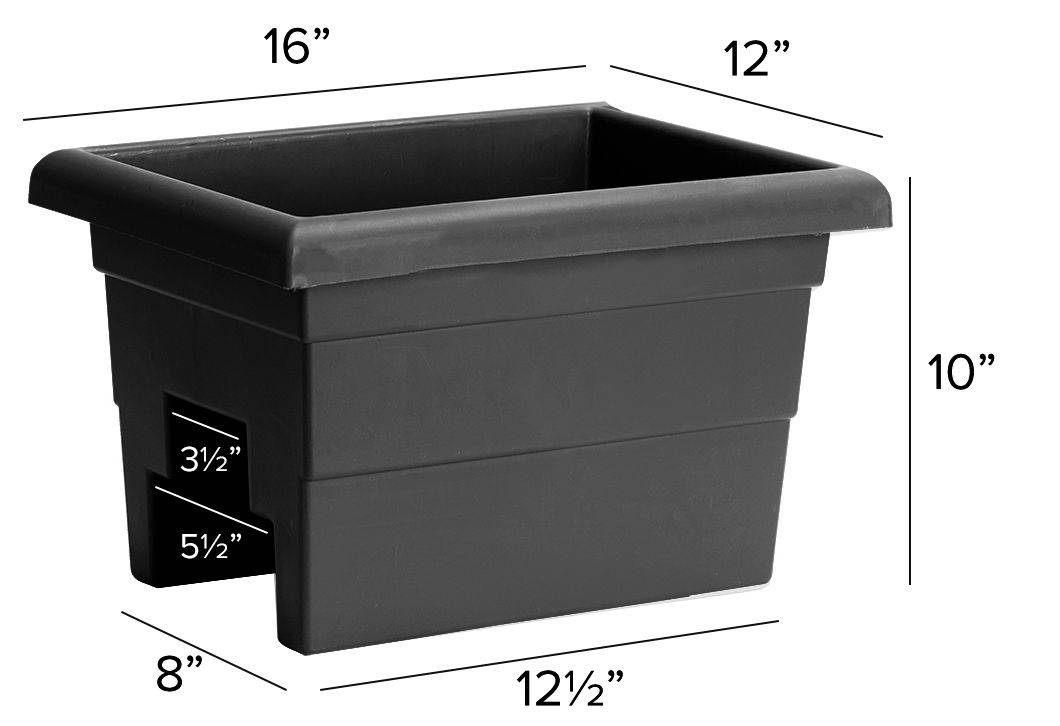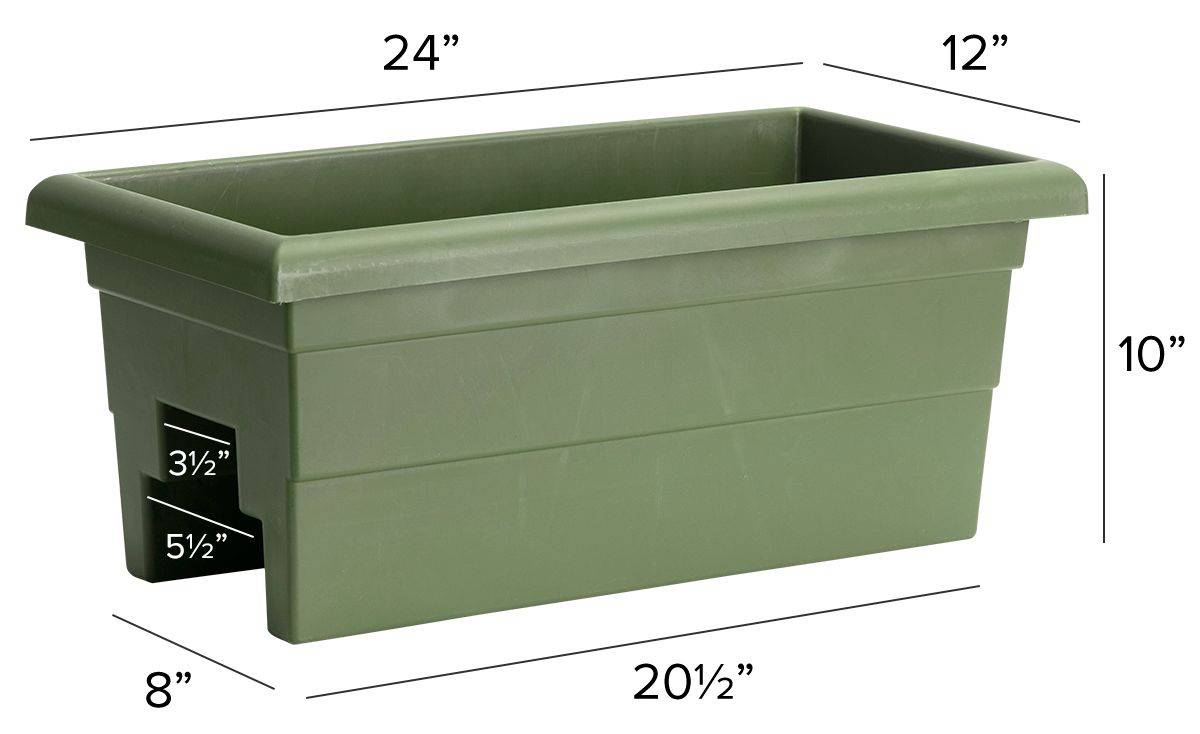 How should I pot my plant?
Add a small amount of perlite medium on the bottom of the planters. Finish filling with a light to medium weight potting mix and stones. Routinely adding plant food, according to plant's directions, will dramatically increase the health, beauty and longevity of the plants in your Countryside Railing Planters.
What is the Countryside Railing Planter made of?
The Countryside Railing Planter is constructed from high-grade, durable plastic.
Is the Countryside Railing Planter self-watering?
Does the Countryside Railing Planter have drainage holes?
Yes, there are 2 removable drainage plugs on the one side of the planter. There are also separate drill holes for drainage if you prefer to use those instead.
How do I remove the drainage plugs?
If the 2 removable drainage plugs are not coming off easily, we recommend using a screwdriver or similar tool to punch them out from the inside. Note there are also separate drill holes for drainage that you can drill through if desired.
How much does the Countryside Railing Planter weigh?
The weight varies by size as follows:
16-Inch: 1.6 lbs.
24-Inch: 2 lbs.
Where is the Countryside Railing Planter manufactured?
The Countryside Railing Planter is proudly manufactured in the USA at our Lancaster, PA facility.
Do you ship outside the United States?
We ship internationally to Canada only. We recommend using a freight forwarding service, such as DHL, if you wish to order and ship outside of the U.S. or Canada. All shipments from our facility must be sent to a U.S.- or Canadian-based address.
---
---
| | |
| --- | --- |
| Order Total | Shipping Charge |
| | |
| | |
*Flat rate and free shipping only apply within the Contiguous U.S. All shipments outside the lower 48 United States will be charged a shipping cost.
Handling + Shipping Insurance - This $0.97 fee helps offset the rising costs we're incurring around fulfillment. It also allows us to continue offering free replacements for lost, stolen, or damaged packages. Although shipping carriers are usually the one at fault, they almost always put the burden back on businesses to cover those expenses.
PO Boxes - Please note that you must contact our Consumer Care team to place an order that ships to a PO box to ensure proper delivery. Failure to do so may result in a longer delivery time and additional shipping charges.
When will I receive my order?
An estimated range is provided at the top of this page. All items are shipped directly from our Lancaster, PA headquarters. Orders are typically processed and shipped in 1 business day via FedEx Home Delivery or USPS. You can also view this map from FedEx to estimate how long a shipment will take to arrive after it leaves our warehouse. We do not currently offer expedited shipping.
For more info, review our Shipping Policy and Return Policy in their entirety.
---