2-Gallon Plastic Watering Can Features:
Large 2-gallon capacity to spend less time refilling and more time enjoying your garden

Features a timeless design with a sunflower embossed on each side

Built with thick-walled, UV-resistant, quality plastic to ensure long-lasting use
Easy-pour, detachable nozzle for fast replacement and cleaning
Wide spout to accurately target your plants' roots, reducing waste
Ergonomically designed for easy pouring without straining your wrist or arm
Measurement markings for precise control and prevent overwatering or underwatering
Environmentally conscious materials that are BPA-free and recyclable
Proudly made in the USA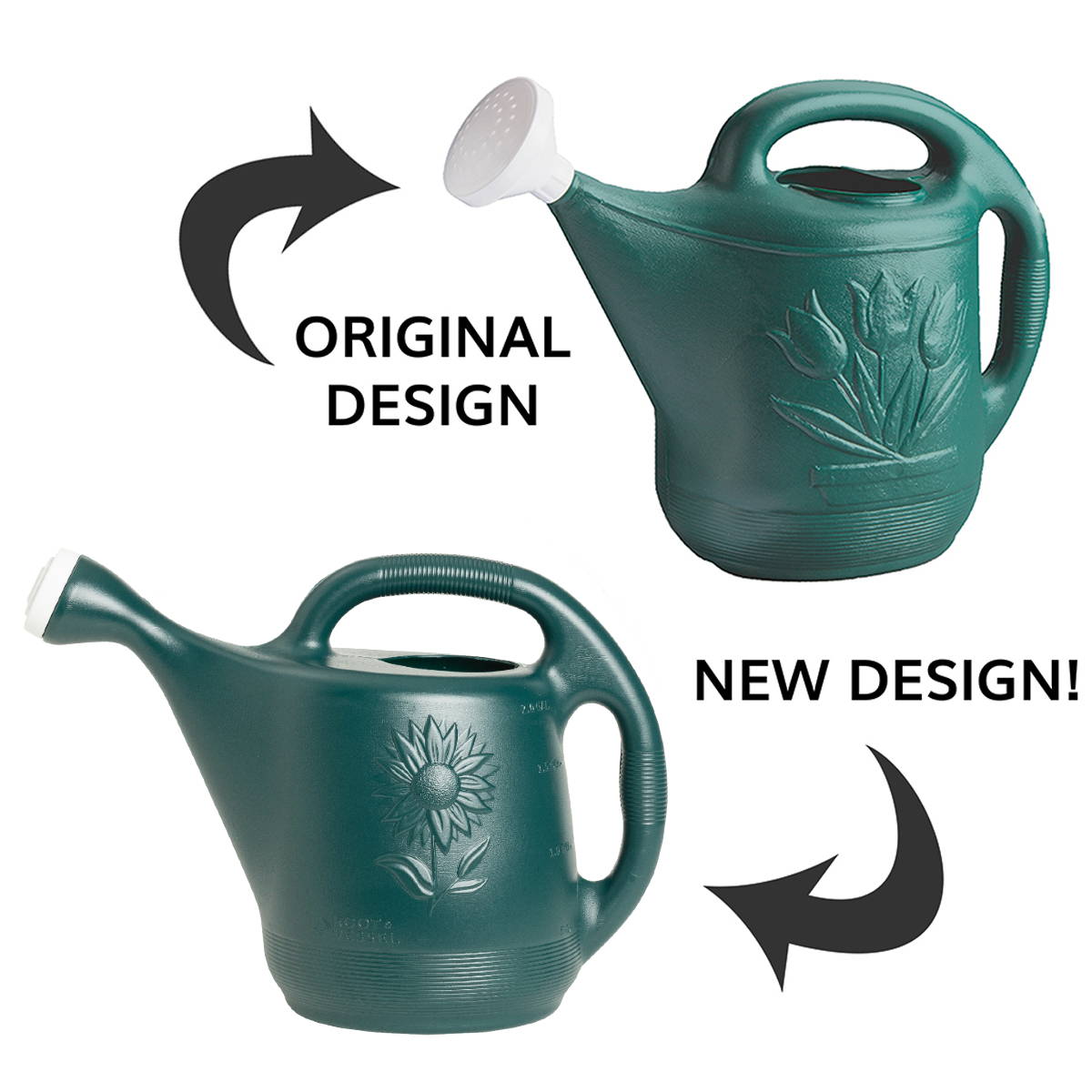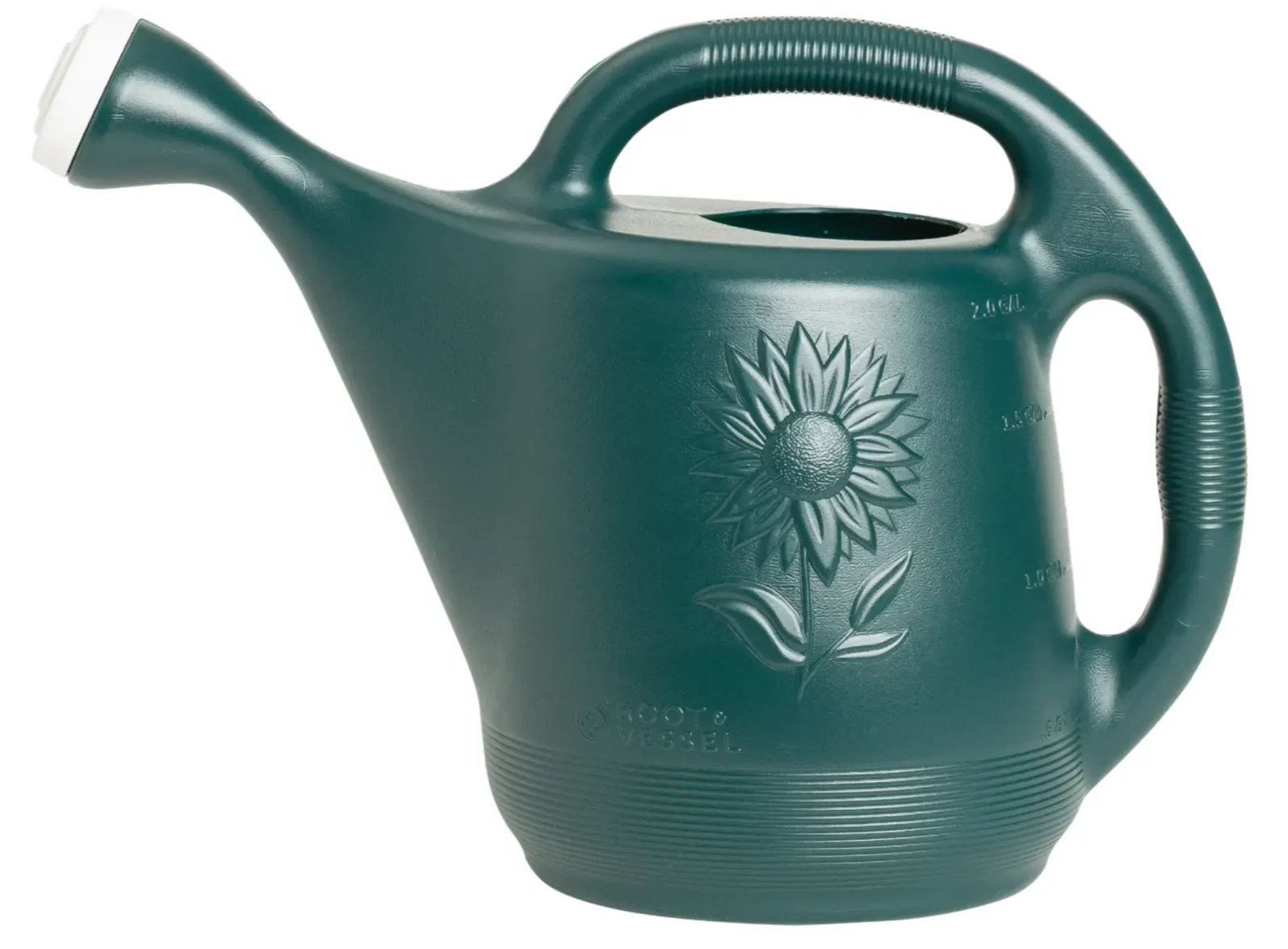 Water Plants More Efficiently
Are you tired of constantly refilling your watering can while tending to your plants? Do you struggle with flimsy, uncomfortable ones that make the task more challenging than it should be? We understand the frustrations that gardeners face when it comes to watering their plants effectively.
Our 2-gallon plastic watering can makes plant care easy. It has a thoughtful design and practical features, making it the ultimate solution to your gardening needs.


Spend Less Time Refilling with a 2-Gallon Watering Can
Holding up to two gallons, you'll enjoy fewer refills and more time caring for your plants. Smaller 1-gallon cans require constant trips to the faucet. So you spend as much time filling the container as watering your plants. And when you have to refill the plastic can, the large opening makes it easy to fill.
With a two-gallon capacity, it keeps you focused on what matters most—watering your plants. Capacity measurements are displayed on the can so that you can water plants based on their needs.


Detachable, Dual-Purpose Nozzle for Added Convenience
One of the best features of the can is its nozzle. It controls the flow, so you get the perfect amount for your plants as you tip it over. In addition, the nozzle is detachable for easy cleaning. Removing the nozzle can create a single stream to saturate the planter's soil quickly.
You can also purchase a replacement nozzle.


Quality Design That's Built to Last
Our 2-gallon plastic watering can features a timeless, signature sunflower pattern. It's thoughtfully designed and constructed with quality components.
Because you need to carry and pour, the can includes a handle for both. The sloping, two-part handle positions your hand based on the water level inside the can.
You can use this can for indoor or outdoor watering. It's lightweight, weighing only 0.8 lbs, but it's built to last, made with UV-protected, thick-walled, shatterproof plastic. Our high-quality plastic watering can lasts for decades.
Discover the joy of effortless and efficient plant care with our 2-gallon watering can. It's time to take your gardening to the next level and ensure your plants thrive. Make a purchase or subscribe for updates today and simplify your gardening routine.
And check out our deluxe 2-gallon watering can. It comes in four colors to add a decorative touch.
What is the 2-Gallon Classic Watering Can made of?
The 2-Gallon Classic Watering Can is constructed from high-grade, durable plastic.
How much does 2-Gallon Classic Watering Can weigh?
The 2-Gallon Classic Watering Can weighs approximately 0.8 lbs.
Where is the 2-Gallon Classic Watering Can manufactured?
The 2-Gallon Classic Watering Can is proudly manufactured in the USA at our Lancaster, PA facility.
Do you ship outside the United States?
We ship internationally to Canada only. We recommend using a freight forwarding service, such as DHL, if you wish to order and ship outside of the U.S. or Canada. All shipments from our facility must be sent to a U.S.- or Canadian-based address.
| | |
| --- | --- |
| Order Total | Shipping Charge |
| | |
| | |
*Flat rate and free shipping only apply within the Contiguous U.S. All shipments outside the lower 48 United States will be charged a shipping cost.
Handling + Shipping Insurance - This $0.97 fee helps offset the rising costs we're incurring around fulfillment. It also allows us to continue offering free replacements for lost, stolen, or damaged packages. Although shipping carriers are usually the one at fault, they almost always put the burden back on businesses to cover those expenses.
PO Boxes - Please note that you must contact our Consumer Care team to place an order that ships to a PO box to ensure proper delivery. Failure to do so may result in a longer delivery time and additional shipping charges.
When will I receive my order?
An estimated range is provided at the top of this page. All items are shipped directly from our Lancaster, PA headquarters. Orders are typically processed and shipped in 1 business day via FedEx Home Delivery or USPS. You can also view this map from FedEx to estimate how long a shipment will take to arrive after it leaves our warehouse. We do not currently offer expedited shipping.
For more info, review our Shipping Policy and Return Policy in their entirety.