---
Fish Watering Can Features:
Squirt the Fish is an aquatic hero who knows water
Make watering fun with this fish-shaped watering can
Built with thick-walled, UV-resistant, quality plastic
Durable watering can that will water plants for a lifetime
Holds 0.75 gallons
BPA-free and recyclable
Proudly made in the USA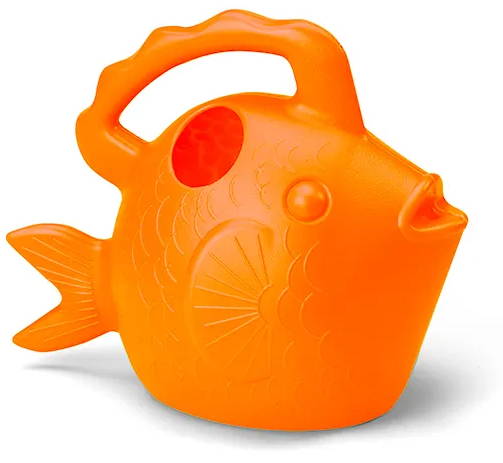 ---
---
Making a splash at a garden near you, our 0.75-gallon fish-shaped watering can, makes watering your plants super-duper fun. There are only a few others who know water as well as fish, so as you blaze the trail from the garden to the pool to the beach, this watering can will show you the ins and outs of water and will surely enjoy travelling along with the you. Using this watering can is a perfect way to show the fam the joy in bringing water to your plants. Explain how water, sunlight, and soil helps plants grow! The fish watering can also be a fun piece to add to your aquatic or nautical décor. Give a person a fish watering can and you have taught them to water plants for a lifetime!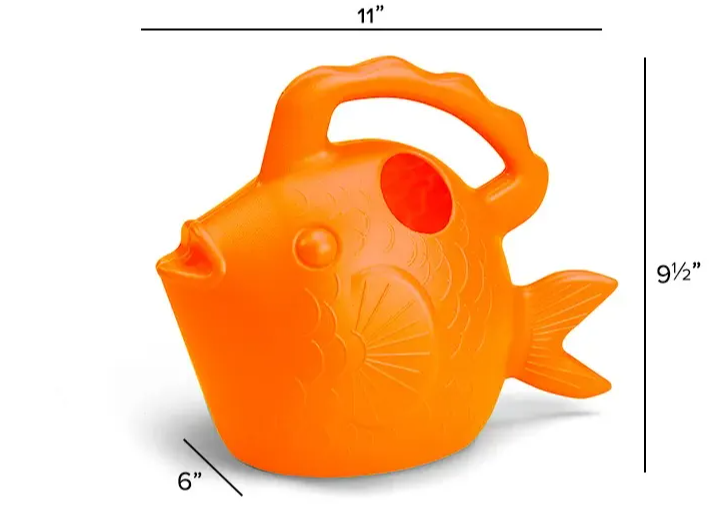 ---
---
What is the Fish Watering Can made of?
The Fish Watering Can is constructed from high-grade, durable plastic.
How much does the Fish Watering Can weigh?
The Fish Watering Can weighs approximately 0.5 lbs.
Where is the Fish Watering Can manufactured?
The Fish Watering Can is proudly manufactured in the USA at our Lancaster, PA facility.
Do you ship outside the United States?
We ship internationally to Canada only. We recommend using a freight forwarding service, such as DHL, if you wish to order and ship outside of the U.S. or Canada. All shipments from our facility must be sent to a U.S.- or Canadian-based address.
---
---
| | |
| --- | --- |
| Order Total | Shipping Charge |
| | |
| | |
*Flat rate and free shipping only apply within the Contiguous U.S. All shipments outside the lower 48 United States will be charged a shipping cost.
Handling + Shipping Insurance - This $0.97 fee helps offset the rising costs we're incurring around fulfillment. It also allows us to continue offering free replacements for lost, stolen, or damaged packages. Although shipping carriers are usually the one at fault, they almost always put the burden back on businesses to cover those expenses.
PO Boxes - Please note that you must contact our Consumer Care team to place an order that ships to a PO box to ensure proper delivery. Failure to do so may result in a longer delivery time and additional shipping charges.
When will I receive my order?
An estimated range is provided at the top of this page. All items are shipped directly from our Lancaster, PA headquarters. Orders are typically processed and shipped in 1 business day via FedEx Home Delivery or USPS. You can also view this map from FedEx to estimate how long a shipment will take to arrive after it leaves our warehouse. We do not currently offer expedited shipping.
For more info, review our Shipping Policy and Return Policy in their entirety.
---