Flower Boxes: 7 Tips for Choosing the Perfect Flowers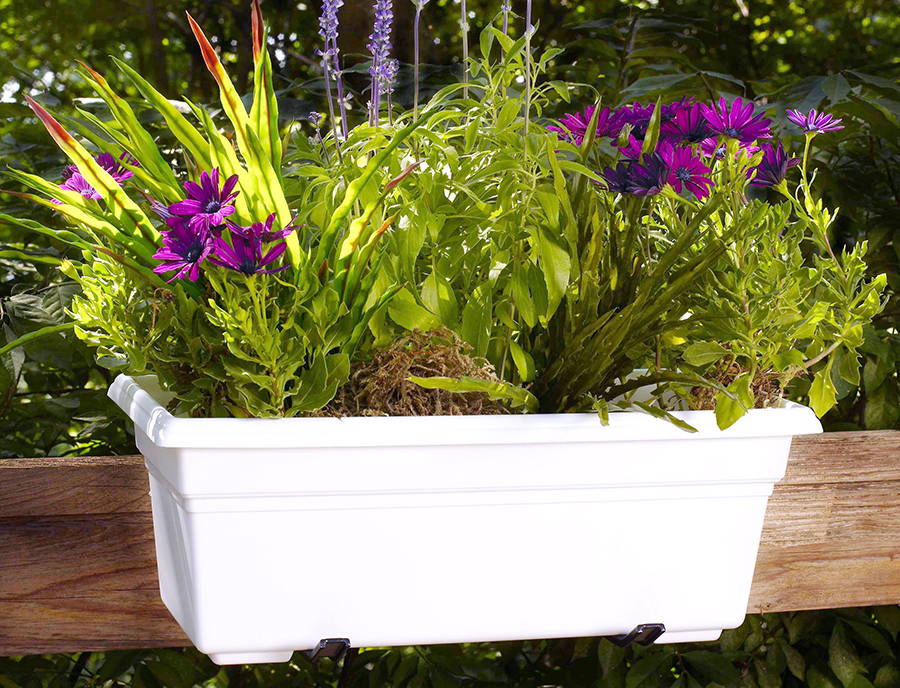 If you're looking for decorative planters, don't just turn to standard round and square pots. Instead, add some variety by using flower boxes. They're versatile alternatives that have some notable benefits.
Add Some Curb Appeal with Flower Boxes
Flower boxes are a perfect way to add curb appeal to your home. That's especially valuable if you have limited yard space and rely on planters to add a pop of color to your property. In addition, they're an easy way to add a natural impact to your front porch or bring some greenery to a balcony space that might otherwise lack interest.
In addition, flower boxes are typically larger than many other planters. So that gives you more real estate to add a mix of flowers for interest and color. Or you can plant one with the same plants to create a wave of a single color that readily attracts attention.
Flower Boxes Are Flexible
These planters are exceptionally flexible. You can move them around to brighten any location.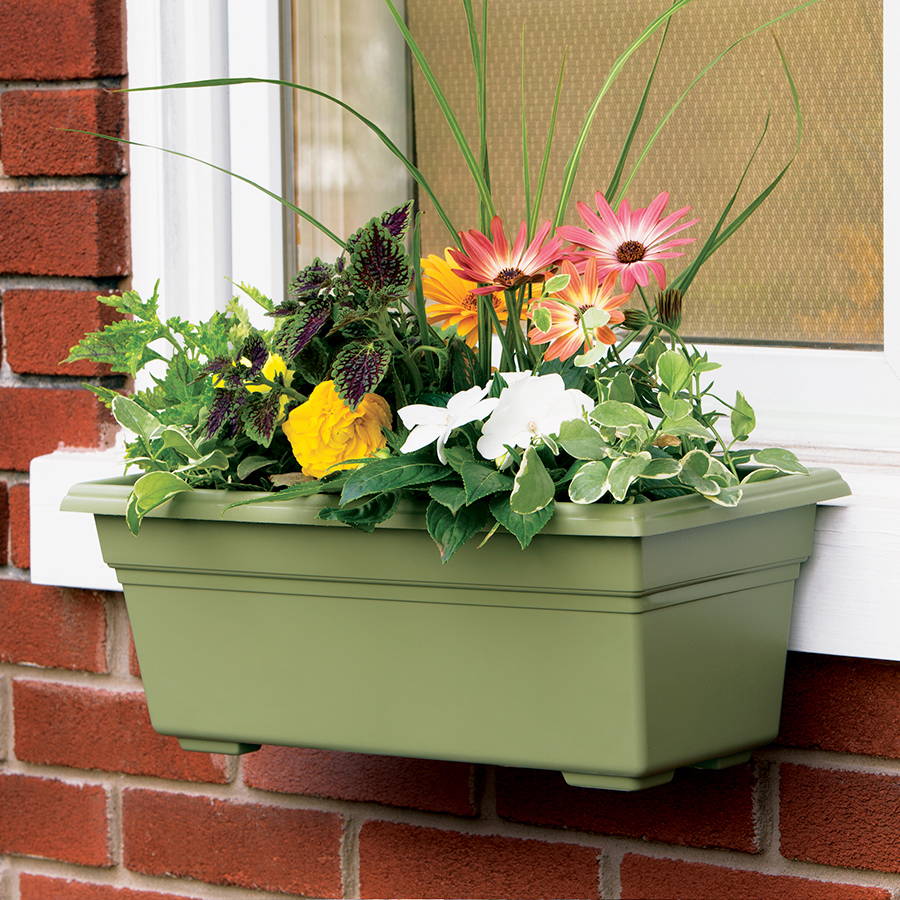 For example, use one on your deck as a railing planter to soften the wood railing. Add a pop of color to your home's façade using the planter as flower window boxes. Or use a flower box indoors for greenery on a side table.
Flower boxes also give you the freedom to create seasonal displays.
Fill one with pansies or hyacinths to signal the end of a long winter. Then, change things up to add perennials and annuals for a bright summer display.
Plant orange, red, and yellow chrysanthemums in the fall to complement the tree's leaves. Use a flower box for poinsettias, rosemary, or Christmas cacti to celebrate the festive mood of the holidays.
7 Tips for Choosing the Perfect Flowers for These Planters
There's no end to how you can use flower boxes to add beauty and charm to your home's interior and exterior. So where do you begin?
Here are seven tips to help you select the perfect floral display for your boxes.
Growing Conditions: The amount of sunlight and moisture affect plant growth. So make sure you use plants location appropriate. For example, if your flower box is in full sun, choose flowers that thrive in direct sunlight, like petunias, marigolds, and geraniums. For shady locations, use shade-loving plants like begonias and impatiens.
Color Schemes: Flower colors can significantly impact your flower boxes' look and feel. Flowers with complementary colors create a harmonious, visually cohesive look that leads your eye to your plant's shapes.

Conversely, contrasting colors create a more striking look that adds every to the planter. For example, mixing warm colors like red and yellow with cool colors like green and blues creates a vivid, attractive contrast.
Flower Box Size: The size and shape of your flower box affect your flower choices. For example, choose smaller flowers like pansies and violas if your flower box is small. You should also stick with flowers having complementary colors.

Larger flower boxes (20 inches or more) lend themselves to more contrasting tones with different-sized plants and textures. The different color schemes capture the eye, while the variations in textures create even more interest in the planter.
Maintenance: If you enjoy plants but not the maintenance, use low-maintenance plants like marigolds and geraniums. They're easy to care for and can even withstand underwatering to an extent. You'll also want to avoid plants that require deadheading to encourage reblooming. In that case, wave petunias can be your best friend.
Season: You can mix things up by changing plants based on the season. In spring, use flower boxes with daffodils or tulips. After they've finished blooming, you can remove the bulbs and store them for next year or store the entire planter instead.

Then replace the spring-blooming varieties with summer varieties that take the heat, like zinnias, sunflowers, cone flowers, daisies, etc. As mentioned above, mums are a perfect addition to your boxes for fall.
Flower Types: Some plants are better suited than others for containers. Again, it depends on how much time you want to spend caring for plants. For example, succulents like jade plants, hens and chicks, and aloe vera require little water and thrive in hot, dry conditions.

Lavender is a perfect choice if you enjoy flowering plants that smell great and attract pollinators. In addition, it can handle heat and low moisture.

Annuals like zinnias, marigolds, petunias, and geraniums are staples for flowing boxes. They're pest and disease resistant. Plus, they provide a broad palette of colors.
Themes: Consider the aesthetic and style of your home. Then, use flower boxes to accentuate that aesthetic. For example, if you live in a beach house, choose flowers with a coastal vibe, like sea lavender or beach roses.

Cottage-style homes typically feature hollyhocks, larkspur, daisies, sweet peas, and heliotropes.

And remember, flower boxes aren't limited to outdoor use. You can use one to add greenery to your home's interior. For example, ferns, peace lilies, and snake plants are easy to maintain while adding vertical interest to spaces.
Here are two final tips.
First, don't be afraid to experiment with what you plant in flower boxes. The more you try different plantings, the more you uncover what works best.
Second, and above all else, have fun. Gardening is a great way to relieve stress and enjoy nature's beauty indoors and out. Happy gardening!
Root & Vessel Has Decorative Planters for Every Gardener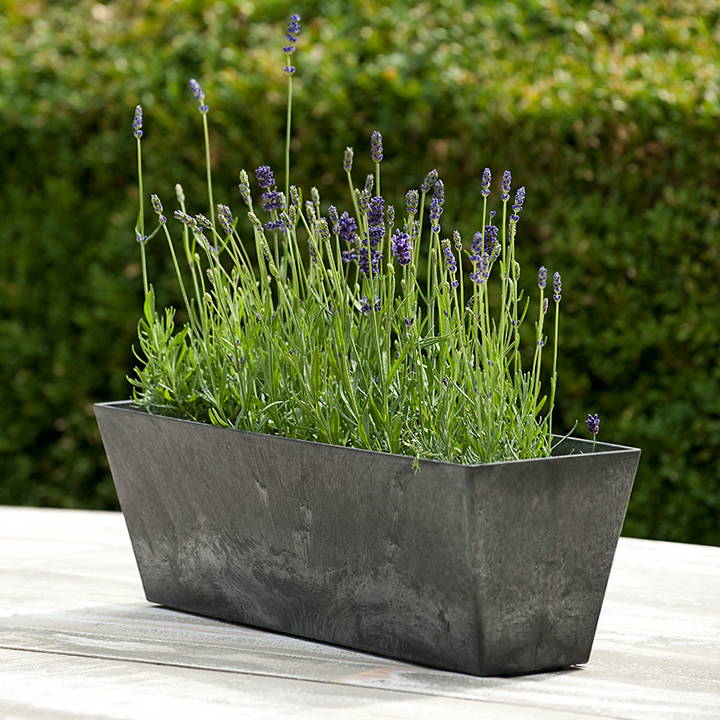 Our decorative planters fit any gardening style. Plus, you can count on them to last for years.
Our Ella flower boxes are made from Artstone, featuring a high-grade blend of resin and stone. Best of all, they're self-watering, using a sub-irrigated reservoir to keep your plants hydrated.
Like these flower boxes, our resin planters are waterproof and UV-resistant, so they won't flinch at anything mother nature throws them. They also have an attractive, one-of-a-kind marbled look that works with any home décor.
You can select from flower boxes, round planters, square planters, wall planters, and other styles.