Flower Window Box Features:
Timeless design with a soft matte finish and subtle satin banding
Deep growing space to keep plants healthy and vibrant
Constructed with high-grade, durable plastic
Lightweight, UV-resistant, and shatter-resistant
Footed base and removable drainage plugs
BPA-free and recyclable
Proudly made in the USA
Pairs nicely with our Countryside Flower Box Trays
Note: Mounting hardware/brackets not included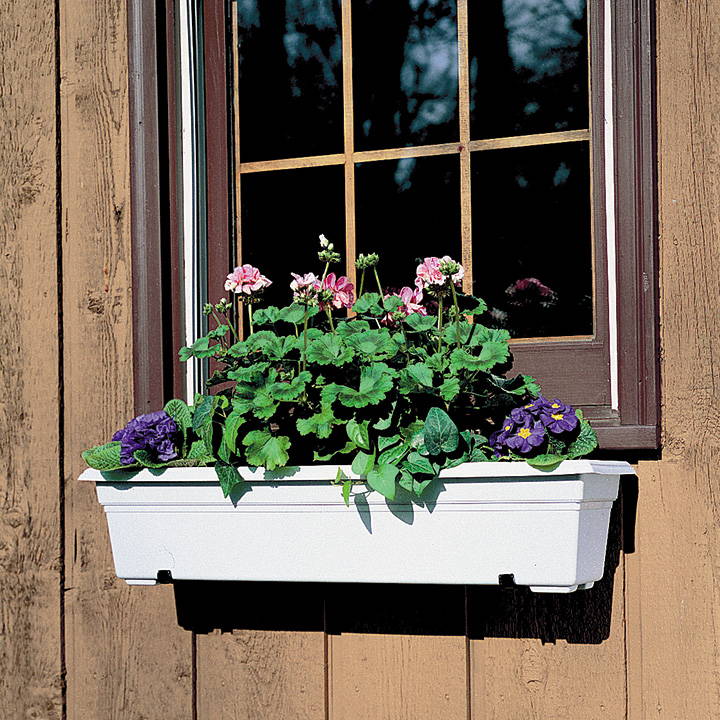 Make a Statement with Countryside Flower Window Boxes
Are you a passionate gardening enthusiast seeking to enhance your home's charm and captivate onlookers with stunning floral displays? Look no further than our flower window boxes—the ultimate solution to elevate your home's aesthetics and create a breathtaking garden oasis!
Countryside flower window boxes offer unparalleled versatility, allowing you to unleash your creativity and design a botanical wonderland tailored to your preferences.
The possibilities are endless, from beloved summer staples like geraniums, marigolds, petunias, and dahlias to cascading vines that add mesmerizing layers of beauty. Brighten shady spots with captivating impatiens and coleus, or create an herb haven outside your kitchen window for convenient fresh culinary delights.
Our flower window boxes effortlessly transition from one season to another, ensuring year-round beauty. Welcome the early spring with enchanting violas and pansies, celebrating the vibrant colors they bring.
As autumn approaches, adorn your home with captivating mums, infusing the surrounding landscape with warmth and splendor.
Even in the winter, miniature evergreens provide a striking visual contrast against the snowy backdrop, ensuring your home remains enchanting.
Get even more ideas by reading our blog featuring seven tips for choosing the perfect flowers for window boxes.


Unleash the Power of Curb Appeal
Picture this: your home, adorned with vibrant, blooming flowers showcased in exquisite window boxes. Window flower boxes let you effortlessly add depth, scale, and a burst of color, accentuating your home's architectural beauty. Transform your house into a captivating masterpiece that stands out from the rest on your block, leaving neighbors and passersby in awe.
Window flower boxes are especially appealing on city streets. You can add a dimension and appeal to your home façade, making it stand out from other homes on the block.
Exterior appeal aside, flower window boxes add a visual element to your home's interior. Why settle for a dull view outside when you can plant an array of flowering plants to add a splash of color and liven your view?
And if you plant your window boxes with fragrant flowers, you'll enjoy their scents every time you open the window.


Window Flower Boxes Transform Any Space Indoors or Out
Don't limit yourself to windows alone! Our flower window boxes can be used beyond their traditional placement. Elevate your porch, deck, or walkways with their enchanting presence. With built-in feet for proper airflow and a rubber stopper for drainage, these lightweight, UV-resistant, and recyclable planters ensure your plants thrive while adding a touch of elegance to any space.
You can add even more decorative flair to your home's façade using our flower window boxes with other popular planters. They pair perfectly with our tall planters, adding vertical interest to a space. Or use them with our round planters, using different shapes to add visual appeal.
You can even use them indoors to create a colorful nook in a living room. Or place one in a sunny spot in your kitchen to grow herbs to elevate the flavor of your favorite dishes. If you use them indoors, pick up a flower box tray to protect wood surfaces from watering and draining.


Choose Your Perfect Fit: Colors and Sizes to Complement Your Vision!
We understand that every gardener has a unique vision. That's why we offer a wide selection of five captivating colors and four sizes ranging from 18 to 36 inches. Choose the perfect fit for your home and let your imagination run wild!
Smaller-sized flower window boxes, such as our 18-inch options, are perfect for adding a touch of charm and elegance to compact spaces or windows with limited width. They allow you to create beautiful, eye-catching displays without overwhelming the architectural proportions of your home.
Medium-sized window boxes, ranging from 24 to 30 inches, perfectly balance versatility and impact. These sizes offer ample space for a diverse range of plants, allowing you to showcase an array of colors, textures, and heights.
Finally, our larger-sized flower window boxes, up to 36 inches, make a bold statement. They provide abundant room for displays, allowing you to create breathtaking arrangements that captivate every eye. Regardless of the size you choose, Countryside flower window boxes ensure that your home is transformed into a botanical wonderland that reflects your unique style and taste.
Don't miss this opportunity to transform your home into a paradise of color and fragrance. Join the community of gardening enthusiasts who have already discovered the beauty and versatility of flower window boxes.
Elevate your home's charm today and indulge in the joy of nature's masterpiece right at your doorstep.


Superior Quality, Lasting Beauty: Crafted for Perfection!
Our flower window boxes are meticulously crafted using a superior plastic blend, offering unrivaled resistance to weather conditions. They effortlessly combine functionality and aesthetics with a timeless design, matte finish, subtle satin band, and unique rim.
Unlike metal window boxes that can rust or corrode over time or wooden boxes prone to decay and require frequent maintenance, our high-grade plastic flower window boxes are built to last. They resist the elements, including rain, sun exposure, and temperature fluctuations, ensuring they retain their beauty and functionality for years.
Another advantage of plastic flower window boxes is their lightweight nature. Compared to their counterparts made from heavier materials, plastic window boxes are easy to install and maneuver.
This makes the planting process hassle-free and allows for effortless repositioning or cleaning when needed. Whether you want to change the location of your planters or refresh your floral displays, plastic window boxes offer convenience and flexibility.
In addition to their durability and versatility, plastic flower window boxes are low maintenance.
Unlike wooden window boxes that require regular sealing or staining to prevent rot or discoloration, plastic window boxes can be easily cleaned with a gentle hose spray or wiped down with a damp cloth. They do not require any special treatments or ongoing upkeep, allowing you to enjoy your beautiful floral displays without extra effort.
Our flower window boxes are also an environmentally friendly choice. They're BPA-free and recyclable, ensuring that they can be repurposed or transformed into new products at the end of their lifespan, reducing waste and promoting sustainability.


Your Home Deserves the Best: Choose Countryside Flower Window Boxes
Your home deserves nothing less than the best, and that's precisely what Countryside Flower Window Boxes deliver. From their timeless design and durable construction to their versatility and effortless beauty, our window boxes are the epitome of excellence.
Join countless satisfied customers who have transformed their homes into botanical havens with our premium flower window boxes.
Are brackets or mounting hardware included in the purchase?
No. We do not make or sell brackets/hardware at this time. You would need to purchase that elsewhere if you wish to mount or hang the flower box from your window. We recommend a bracket that holds the box from below since that is the most sturdy part of the flower box.
How should I pot my plant?
Add a small amount of perlite medium on the bottom of the flower box. Finish filling with a light to medium weight potting mix. Routinely adding plant food, according to plant's directions, will dramatically increase the health, beauty and longevity of the plants in your Countryside Flower Boxes.
What is the Countryside Flower Box made of?
The Countryside Flower Box is constructed from high-grade, durable plastic.
Is the Countryside Flower Box self-watering?
Does the Countryside Flower Box have drainage holes?
There is a removable rubber stopper on the bottom of the planter. When using outdoors, remove that to allow water to drain properly.
How much does the Countryside Flower Box weigh?
The weight varies by size as follows:
18-Inch: 0.8 lbs.
24-Inch: 0.95 lbs.
30-Inch: 1.3 lbs.
36-Inch: 1.5 lbs.
Where is the Countryside Flower Box manufactured?
The Countryside Flower Box is proudly manufactured in the USA at our Lancaster, PA facility.
Do you ship outside the United States?
We ship internationally to Canada only. We recommend using a freight forwarding service, such as DHL, if you wish to order and ship outside of the U.S. or Canada. All shipments from our facility must be sent to a U.S.- or Canadian-based address.
| | |
| --- | --- |
| Order Total | Shipping Charge |
| | |
| | |
*Flat rate and free shipping only apply within the Contiguous U.S. All shipments outside the lower 48 United States will be charged a shipping cost.
Handling + Shipping Insurance - This $0.97 fee helps offset the rising costs we're incurring around fulfillment. It also allows us to continue offering free replacements for lost, stolen, or damaged packages. Although shipping carriers are usually the one at fault, they almost always put the burden back on businesses to cover those expenses.
PO Boxes - Please note that you must contact our Consumer Care team to place an order that ships to a PO box to ensure proper delivery. Failure to do so may result in a longer delivery time and additional shipping charges.
When will I receive my order?
An estimated range is provided at the top of this page. All items are shipped directly from our Lancaster, PA headquarters. Orders are typically processed and shipped in 1 business day via FedEx Home Delivery or USPS. You can also view this map from FedEx to estimate how long a shipment will take to arrive after it leaves our warehouse. We do not currently offer expedited shipping.
For more info, review our Shipping Policy and Return Policy in their entirety.