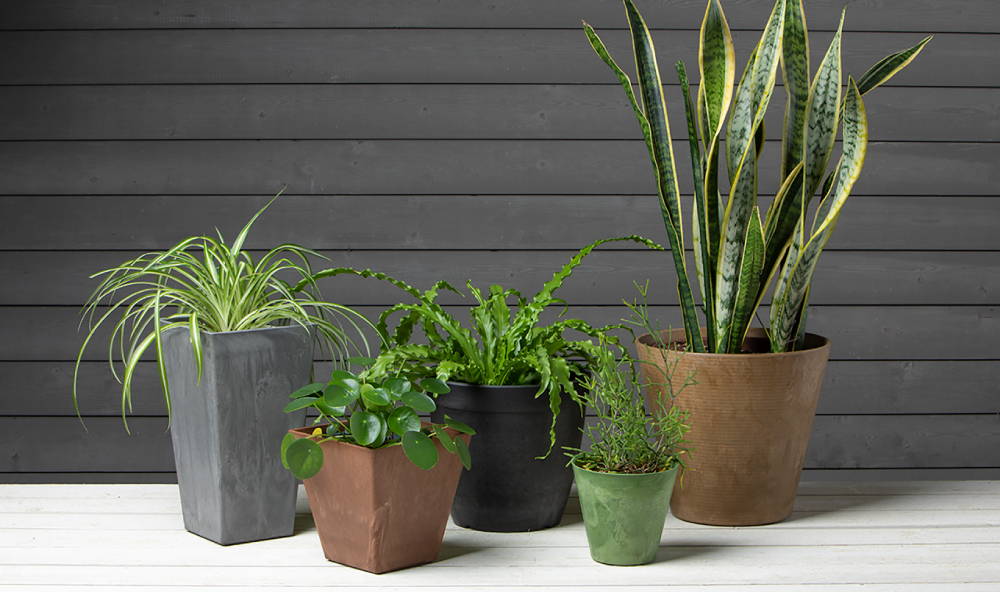 If you're a gardening enthusiast but haven't familiarized yourself with resin planters, maybe it's time you did. They have a lot to offer and provide gardeners with numerous benefits. But what exactly are resin planters?
Resin Planters are not the same as Plastic Planters
One of the common misperceptions about resin planters is that they're a different kind of plastic. Not so.
Resin is an organic compound derived from plants that can be converted into polymers to provide support and structure for other composite materials. If you want to dig deeper into resin, click here.
Typically, the resin is made of low-density polyethylene. It starts as a powder. Next, that powder is made into a liquid and baked into molds. And here's where it differs significantly from plastic.
As a composite, resin includes three components:
A solid inner core
A center protective layer consisting of a thick piece of polyurethane
An outer shell made of resin
Resin is incredibly durable, infinitely more than plastic. But its durability doesn't come at the expense of weight. Resin planters are lightweight.
In addition, resin planters can mimic other natural materials like stone or clay. So you can find numerous styles, shapes, and colors.
The Benefits of Resin Planters
Now that you understand what resin planters are, let's answer the question, why would you want to purchase one? In a nutshell, they have a slew of benefits.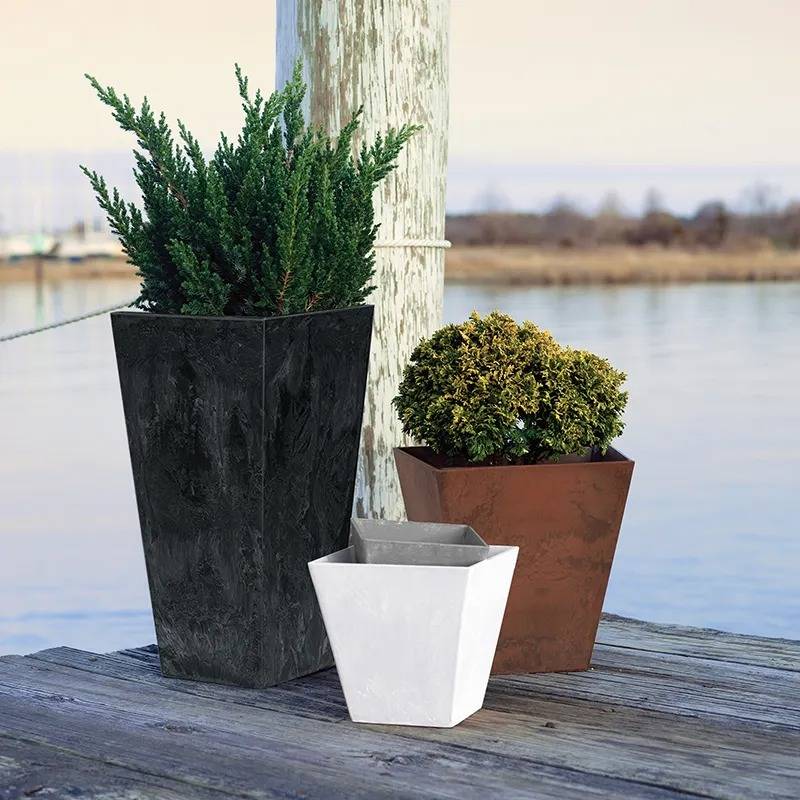 Durability: Resin planters last – it's not surprising to see one last ten years. You can use them indoors, but they shine when used outdoors. They'll handle anything the weather throws them without cracking, chipping, or fading. Most other planter materials break down over time.
Equally important, resin planters don't swell and contract like wood and other planter materials. Swelling and contracting can create cracks that compromise the planter and the plants.
Lightweight: Resin planters are much lighter than planters made from other materials, mainly stone, concrete, and metal. But you won't sacrifice durability with their lighter weight. So, if you like to rearrange things periodically, you can move a resin planter without hurting yourself. Their lightweight also impacts shipping costs. You'll pay less to have a resin planter shipped than other bulky materials.
Versatility: Resin planters come in various shapes, sizes, and colors. And as mentioned, you can find resin planters that mimic other natural materials like stone, brick, or granite. So you'll capture the look you want with the added benefits of resin.
Maintenance: They're easy to clean and maintain. No painting. No sealing. No need to bring them indoors over the winter. They'll look just as great next spring. You can use warm water and dish soap to clean them. Just use a soft cloth to avoid scratching.
Fading: There's one certainty about outdoor planters. They'll get hit with direct sunlight. Unfortunately, the sun's rays can cause planters to lose their color. Resin planters include UV inhibitors that help retain their color even when exposed to the sun.
Water Resistance: It sounds obvious. If you water your plants, your planter will face constant moisture. But regular moisture degrades some planters, notably metal which corrodes, and wood which rots. You won't have those concerns with resin planters.
Another advantage is that resin planters retain moisture well. So you'll have to water less frequently. And most come with drainage holes to prevent water from pooling. You can easily add some to a resin planter versus metal or ceramic if they don't.
Cost: Resin planters are affordable, considering everything they offer. Understandably, planter costs vary based on size, style, brand, and material. However, resin planters almost always cost less than comparable planters made from ceramic, wood, or metal.
Resin Planters Versus Plastic Planters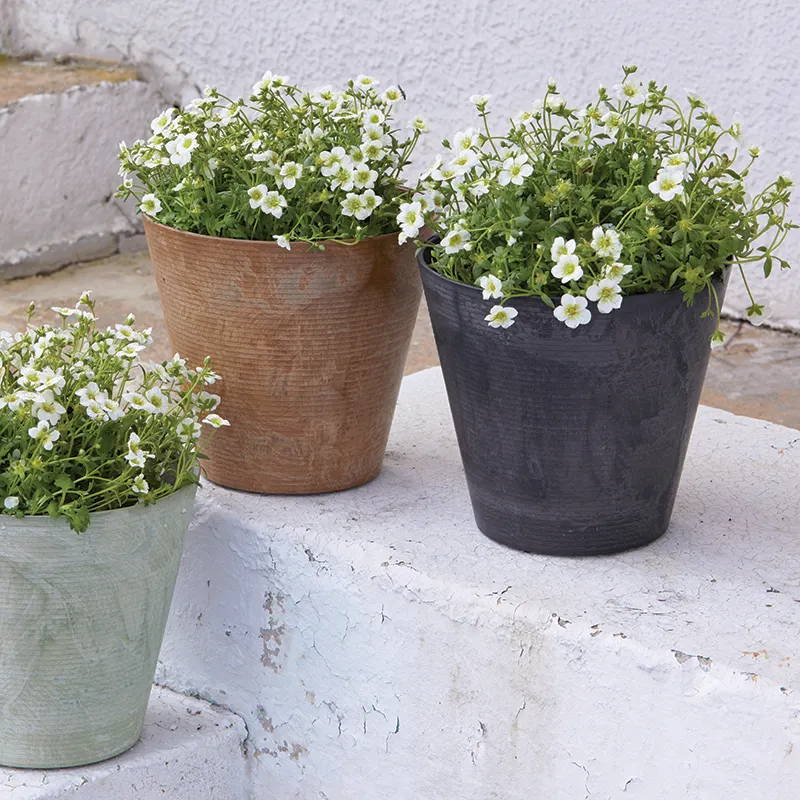 Resin and plastic are both synthetic materials. But there are key differences.
Resin planters feature a composite that results in a high-density plastic material. Their density makes them more durable, weather-resistant, and fade-resistant than plastic planters. Moreover, they're less susceptible to cracking and chipping.
On the other hand, plastic planters are made from different plastics, including polyvinyl chloride (PVC), polyethylene, and polypropylene. Those materials are less durable than resin.
As a result, plastic garden containers cost less. However, they won't withstand harsh weather conditions and can crack and fade relatively quickly with exposure to sunlight and weather.
Their lightweight makes plastic planters easy to move around. But unfortunately, it also makes them less stable in high winds. So you'll more likely have to chase down a plastic planter than a resin planter if you have high winds.
Resin planters may cost a bit more. But if you're looking for a durable, long-lasting planter capable of withstanding harsh weather conditions, resin planters far surpass plastic.
Resin Planters Versus Ceramic Planters
Ceramic planters are one of the more popular options among gardeners. But resin offers several advantages.
First, resin planters are lighter in weight than ceramic, making them easier to move.
Second, resin planters are much less likely to crack or break if dropped. So if you like to move your planters around or are a tad clumsy, you'll be less likely to replace a resin planter than a ceramic planter.
Third, resin planters typically cost less than ceramic.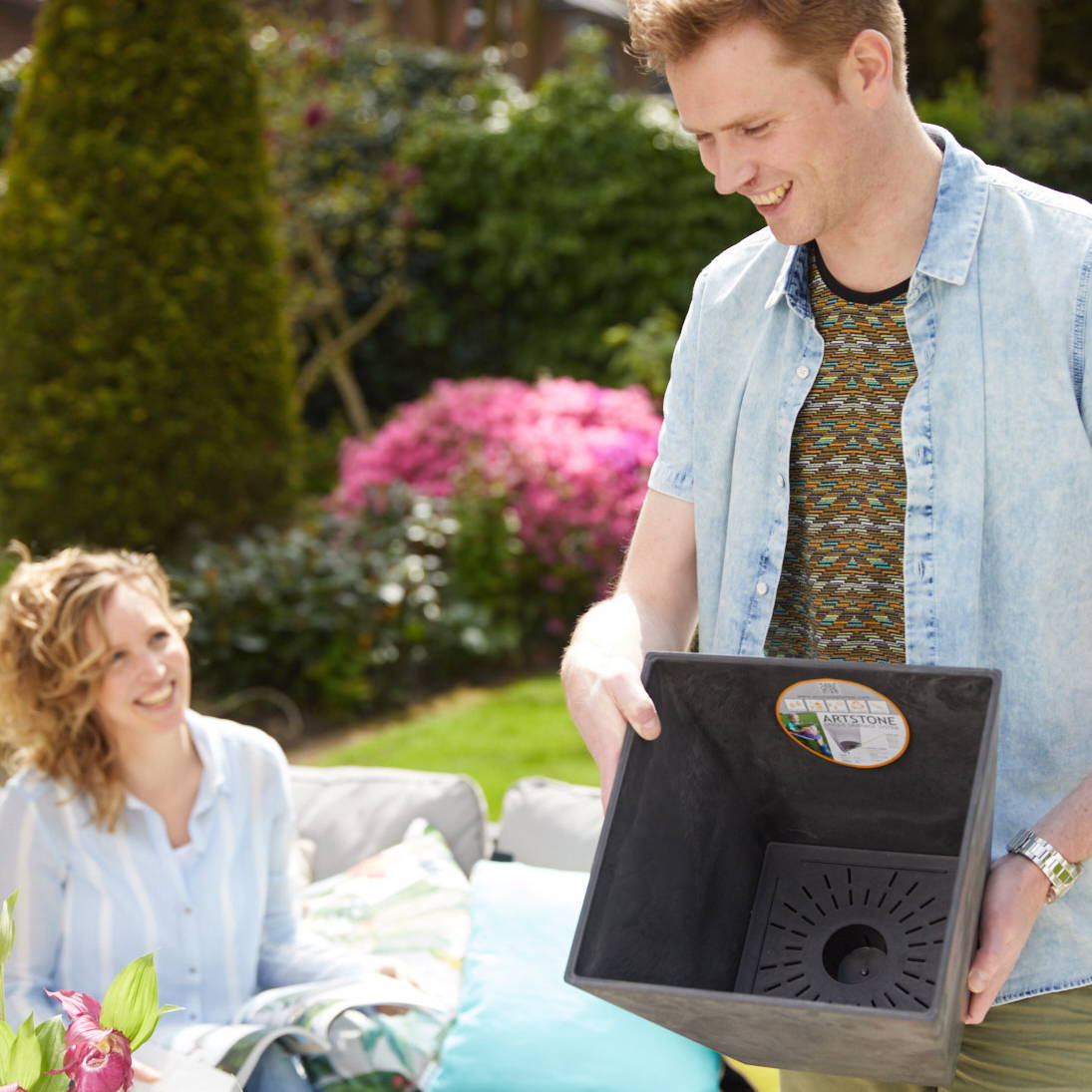 Ceramic planters might have a slight edge in aesthetics. You can get them in numerous colors and styles. They're also known for their ability to retain moisture, so you may need to water them less frequently.
But there's an easy fix to that. Artstone resin planters include a self-watering feature. These sub-irrigated planters, referred to as SIP planters, use capillary action to draw water from the bottom of the planter to the plant's roots. Think of it like a sponge.
Moreover, Artstone planters include an aeration screen, an overflow drain, and a water reservoir.
Equally nice, Artstone resin planters are available in numerous styles, including round, square, bowl, cache pots, flower boxes, and wall planters. They include a unique marbled finish.
Comparing Resin Planters to Wood Planters
Wood planters are organic, which many gardeners prefer. Generally, they also provide more insulation for plant roots than resin planters.
But resin planters have several benefits over wood planters. They're more weather-resistant and won't rot, warp, or crack like wood planters. As a result, resin planters require less maintenance than wood. You don't have to seal or paint them to protect them from the elements.
You'll also pay less for a comparable resin planter while getting a more durable, longer-lasting decorative planter.
Resin Planters vs. Metal
There's no questioning the durability of metal planters. After all, you're not going to break one if your drop it. But, by the same token, you may be unable to lift it because of its weight.
Your most obvious issue with metal is rust or corrosion. However, metal, especially lighter-weight metal gardening containers, can also dent.
Resin planters offer equivalent durability without rust concerns that require ongoing maintenance. In addition, they're substantially lighter, even when filled with plants and soil.
Shop for Decorative Planters of All types
Root & Vessel offers a broad selection of resin planters. So, you're sure to find one that fits your style and gardening needs.
But we also offer other decorative planters like garden urns, tubs, kettles, and railing planters. They're each made of high-grade plastic that's UV-protected and frost resistant. So like our resin planters, you can depend on them for their durability.
You can also learn more about planters by reading our informative blogs:
Our decorative planters are available in the U.S. and Canada. Orders over $49.00 ship free within the Contiguous USA.