Plastic Urn Planter Features:
Classic pedestal design to give your home the formal feel
Constructed with a superior blend of plastic
Lightweight, UV-resistant, and shatter-resistant
Perfect for small garden shrubs, flowers, and foliage
Optional drill holes for drainage
Detachable base for easy storage
BPA-free and recyclable
Proudly made in the USA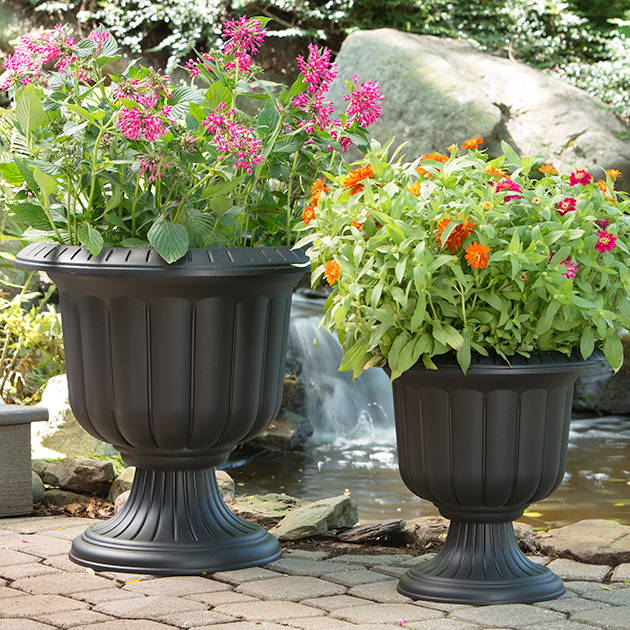 These timeless additions deliver a more attractive, elegant alternative to traditional planters. Inspired by elements of classical architecture and introduced to the American landscape in the 18th century, urn planters are designed with sleek detail to give your home a perfect look. Learn more about garden urns and why they're so popular.
Why Choose a Plastic Urn Planter?
Garden urns come in numerous materials. But our plastic garden urns offer some inherent advantages.
Lightweight: One of the primary advantages of plastic urns is their lightweight nature. Unlike heavy materials like concrete or stone, plastic urns are easy to move around, allowing you to experiment with different garden layouts and relocate them whenever desired. This flexibility is especially beneficial when you want to redecorate your garden or move the planters indoors during harsh weather conditions.
UV-Resistant: High-quality plastic urn planters are designed to be UV-resistant. This means they can withstand prolonged exposure to sunlight without fading or degrading. Plastic pedestal planters will maintain their vibrant appearance and structural integrity over time. Other materials can discolor or become brittle when exposed to the sun's rays.
Shatter-Resistant: Plastic urn planters are durable and shatter-resistant, making them an excellent choice for outdoor use. Unlike ceramic or terracotta planters, which can easily break if accidentally knocked over or exposed to harsh weather conditions, plastic urns are more resilient and can withstand accidental impacts.
Low Maintenance: Plastic pedestal planters are relatively low maintenance compared to other materials. Unlike porous materials, they do not require sealing or unique treatments to protect them from the elements. A simple rinse with water or wipe with a damp cloth is often sufficient to keep them clean and looking new.
Affordable: Plastic urn pots are generally cheaper than ceramic, metal, or stone planters. This cost-effectiveness allows gardeners to purchase multiple planters to create cohesive and attractive displays without breaking the bank.


Our Plastic Urns are Versatile - Inside and Out
Plastic garden urns are versatile and can enhance the aesthetic appeal of both garden spaces and interior settings. Here are some creative uses of garden urns in your home and garden:
Garden Focal Points: Place plastic pedestal planters strategically in your garden to be eye-catching focal points. These stunning pieces can draw attention to specific areas of your landscape.
Entryway Statement: Flank your front door with matching plastic urns with colorful blooms. This creates a warm, welcoming entrance that immediately elevates your home's curb appeal.
Define Spaces: Use urn planters to define different areas within your garden. For example, you can line a pathway or create a boundary between different sections of your outdoor space using strategically placed planters.
Indoor Elegance: Bring the beauty of urn planters indoors to add a touch of sophistication to your interior decor. That's especially true with our plastic pedestal planters. Large plastic urn planters create a formal and timeless atmosphere, whether placed in a foyer, living room, or on a grand staircase.
Patio Perfection: Arrange a collection of small plastic urns on your patio, balcony, or deck filled with colorful flowers and trailing plants. These arrangements provide an inviting and serene atmosphere where you can relax and enjoy the beauty of nature up close.
Seasonal Displays: Change the plants in your plastic urns with the seasons to celebrate the ever-changing beauty of nature. Spring bulbs, summer flowers, fall foliage, and winter greens can all find a place in these versatile planters.


Plastic Pedestal Planters Complement a Host of Plants
Some excellent choices for urn planters include showy annuals like petunias, geraniums, and marigolds. You can count on them for vibrant colors and continuous blooms throughout the season.
Perennials like hostas, ferns, and heucheras are also well-suited for urn planters, adding texture and foliage interest.
Because their pedestal adds height to the plastic urn, you can also incorporate trailing plants. Ivy, creeping jenny, or calibrachoa gracefully spill over the edges of the urn, adding a touch of elegance to your display.
And, of course, there's always the stoic boxwoods. Use two pedestal planters on either side of an entryway to capture an old-world look and feel.


Plastic Urns: The Perfect Garden Complement
Use these versatile planters to elevate curb appeal, accentuate your backyard living area, or complement your interior decor. You can use them with flower window boxes, railing planters, and other decorative planters.
Our garden urns are durable, recyclable, and UV-stabilized. They come in 14- and 19-in sizes. Or you can select our smaller Grecian urn planter.
Our plastic urns are available in black, white, and stone. These traditional colors complement any gardenscape or home interior.
How should I pot my plant?
Add a small amount of perlite medium on the bottom of the urn planter. Finish filling with a light to medium weight potting mix. Routinely adding plant food, according to plant's directions, will dramatically increase the health, beauty and longevity of the plants in your Classic Urn Planters.
What is the Classic Urn Planter made of?
The Classic Urn is constructed from high-grade, durable plastic.
Is the Classic Urn self-watering?
Do the Classic Urn Planters have drainage holes?
There are optional, drill out drainage holes.
How much does the Classic Urn Planter weigh?
The weight varies by size as follows:
14-Inch: 1.10 lbs.
19-Inch: 2.70 lbs.
Where is the Classic Urn manufactured?
The Classic Urn is proudly manufactured in the USA at our Lancaster, PA facility.
Do you ship outside the United States?
We ship internationally to Canada only. We recommend using a freight forwarding service, such as DHL, if you wish to order and ship outside of the U.S. or Canada. All shipments from our facility must be sent to a U.S.- or Canadian-based address.
| | |
| --- | --- |
| Order Total | Shipping Charge |
| | |
| | |
*Flat rate and free shipping only apply within the Contiguous U.S. All shipments outside the lower 48 United States will be charged a shipping cost.
Handling + Shipping Insurance - This $0.97 fee helps offset the rising costs we're incurring around fulfillment. It also allows us to continue offering free replacements for lost, stolen, or damaged packages. Although shipping carriers are usually the one at fault, they almost always put the burden back on businesses to cover those expenses.
PO Boxes - Please note that you must contact our Consumer Care team to place an order that ships to a PO box to ensure proper delivery. Failure to do so may result in a longer delivery time and additional shipping charges.
When will I receive my order?
An estimated range is provided at the top of this page. All items are shipped directly from our Lancaster, PA headquarters. Orders are typically processed and shipped in 1 business day via FedEx Home Delivery or USPS. You can also view this map from FedEx to estimate how long a shipment will take to arrive after it leaves our warehouse. We do not currently offer expedited shipping.
For more info, review our Shipping Policy and Return Policy in their entirety.