---
Planter Box Liner Features:
Use as a standalone flower box or as a liner inside planters
Ridged, scalloped sides provide sturdiness and durability
Constructed with high-grade, durable plastic
Lightweight, UV-resistant, and shatter-resistant
Built-in feet and drill-out holes for drainage
BPA-free and recyclable
Proudly made in the USA
Compatible with our Countryside Flower Box Trays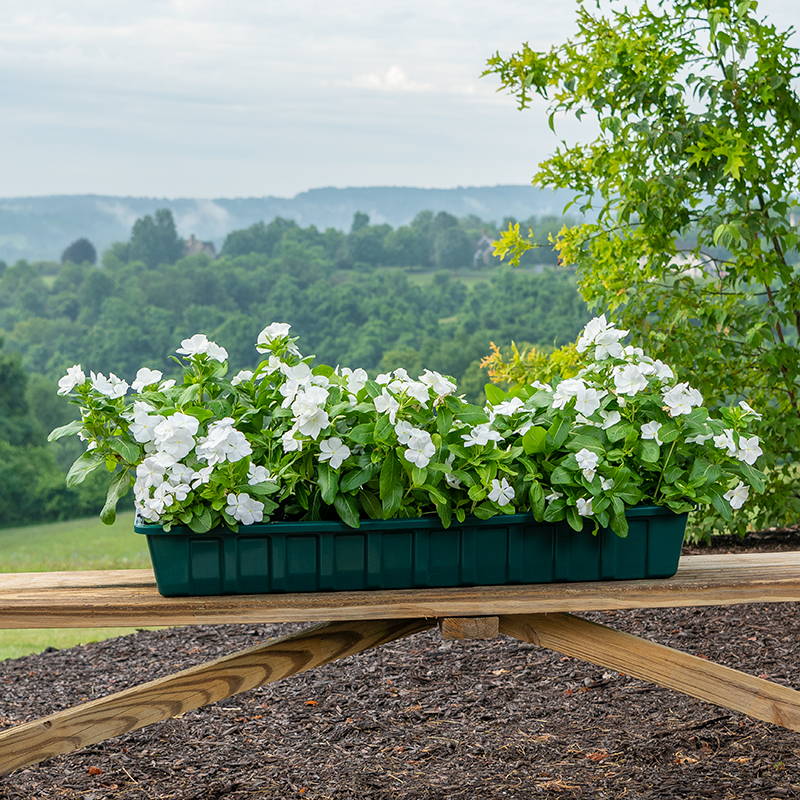 ---
Why Use Planter Box Liners
Flower window boxes add curb appeal to your home. And for some, they allow you to enjoy flowers and plants when faced with limited planting space.
Unfortunately, they can deteriorate from the moisture conditions inside the planter—for example, metal flower boxes rust.
Wood flower window boxes rot. The beneficial organisms in the soil break down the wood and increase its decay rate. So, you may have to replace them every year.
Planter box liners help extend the life of your planters by preventing direct contact with the soil, organic materials, and water inside your flower window box. Your planter box stays dry regardless of how often you water.
Flower Box Liners Make Planting Easier
Planter box liners let you pot your plants outside of the planter box. So you can move plants around easier. And you don't have to worry about your potting mix falling out of the flower window box and making a mess as you move pots around.
Just insert the flower box liner into your planter when you're finished planting. The liners also make it simple to move your plants from one location to another. Or to switch plants seasonally. For example, keep your bulbs inside the planter box liner after spring and use another liner to change to summer blooms.
Plastic Liners Prevent Leaching
Poly-Pro flower box liners are constructed from a superior plastic blend. Plastic isn't permeable. So you won't have to worry about moisture leaching into your planter.
Equally important, plastic prevents any chemicals in treated wood planter boxes from harming your plants. That's especially important if you use your window flower boxes to grow herbs or vegetables.
Poly-Pro Flower Box Liners Can Be Used as Standalone Planters
Our liners also feature distinctive ridged panels to ensure ruggedness and sustainability. As a result, you can use these versatile planters as planter box liners or standalone planters. When used alone, built-in feet provide proper airflow and reduce the chance of water pooling under the planter.
You can use Poly-Pro planter box liners indoors or outdoors. When used outdoors, you can punch or drill the holes on the bottom of the planter for proper water drainage.
Our planter box liners are lightweight and recyclable. They're also UV-protected to resist fading. And they're proudly made in the USA.
Available in three colors, you can select from 18", 24", 30", and 36" flower box liners to fit almost any sized planter.
---
---
How should I pot my plant?
Add a small amount of perlite medium on the bottom of the flower box. Finish filling with a light to medium weight potting mix. Routinely adding plant food, according to plant's directions, will dramatically increase the health, beauty and longevity of the plants in your Poly-Pro Flower Boxes.
What is the Poly-Pro Flower Box made of?
The Poly-Pro Flower Box is constructed from high-grade, durable plastic.
Is the Poly-Pro Flower Box self-watering?
Does the Poly-Pro Flower Box have drainage holes?
Yes, but they need to be punched or drilled out to allow water to drain properly when using outdoors.
How much does the Poly-Pro Flower Box weigh?
The weight varies by size as follows:
18-Inch: 0.7 lbs.
24-Inch: 0.9 lbs.
30-Inch: 1.2 lbs.
36-Inch: 1.45 lbs.
Where is the Poly-Pro Flower Box manufactured?
The Poly-Pro Flower Box is proudly manufactured in the USA at our Lancaster, PA facility.
Do you ship outside the United States?
We ship internationally to Canada only. We recommend using a freight forwarding service, such as DHL, if you wish to order and ship outside of the U.S. or Canada. All shipments from our facility must be sent to a U.S.- or Canadian-based address.
---
---
| | |
| --- | --- |
| Order Total | Shipping Charge |
| | |
| | |
*Flat rate and free shipping only apply within the Contiguous U.S. All shipments outside the lower 48 United States will be charged a shipping cost.
Handling + Shipping Insurance - This $0.97 fee helps offset the rising costs we're incurring around fulfillment. It also allows us to continue offering free replacements for lost, stolen, or damaged packages. Although shipping carriers are usually the one at fault, they almost always put the burden back on businesses to cover those expenses.
PO Boxes - Please note that you must contact our Consumer Care team to place an order that ships to a PO box to ensure proper delivery. Failure to do so may result in a longer delivery time and additional shipping charges.
When will I receive my order?
An estimated range is provided at the top of this page. All items are shipped directly from our Lancaster, PA headquarters. Orders are typically processed and shipped in 1 business day via FedEx Home Delivery or USPS. You can also view this map from FedEx to estimate how long a shipment will take to arrive after it leaves our warehouse. We do not currently offer expedited shipping.
For more info, review our Shipping Policy and Return Policy in their entirety.
---