Plastic Grecian Urn Planter Features:
Timeless design to give your home the perfect look
Constructed with a superior blend of plastic
Lightweight, UV-resistant, and shatter-resistant
Ideal for small shrubs, flowers, and foliage
Optional drill-out drainage holes
Detachable base for easy storage
BPA-free and recyclable
Proudly made in the USA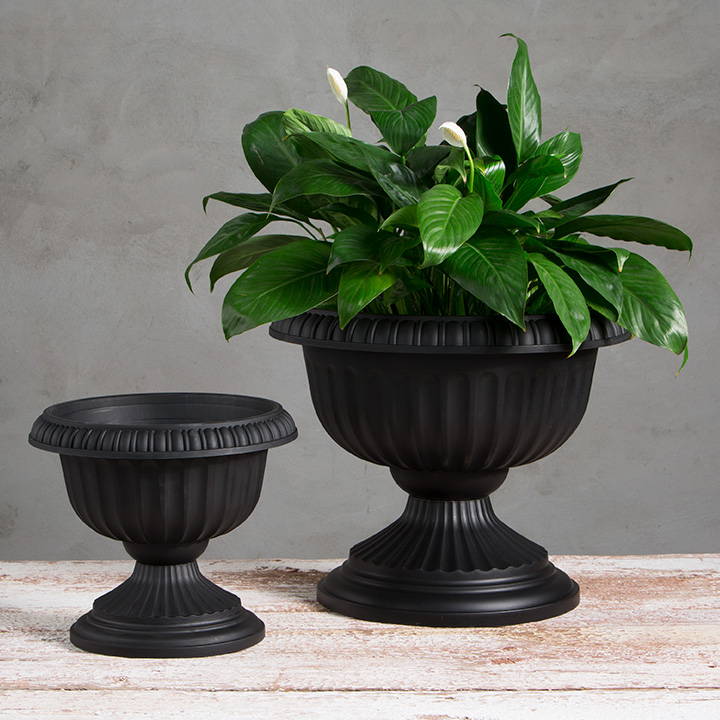 Garden enthusiasts and homeowners seeking the perfect balance of elegance and functionality in their outdoor spaces are turning to the timeless charm of Grecian urn planters. The architectural grandeur of Ancient Greece inspires these exceptional planters and boasts intricate detailing that brings a formal touch to any setting. Plastic Grecian urn planters can seamlessly blend classic aesthetics with modern advantages, making them a top choice for avid gardeners and design enthusiasts.
Plastic Grecian Urns Offer Maximum Versatility
Garden urn planters come in various materials, including concrete, stone, and terracotta. The disadvantage of these materials is their weight. So, you're best leaving them in a fixed location.
Our plastic Grecian urn plants are lightweight and easy to relocate. And unlike other plastic planter pots, we make our plastic urn planters from a superior plastic blend. So you can count on our urn planters to last. They're durable, recyclable, and UV-stabilized to prevent fading when exposed to sunlight.


5 Advantages of Plastic Grecian Urn Planters
Apart from their lightweight and mobility, our plastic urns offer a host of other benefits:
Timeless Design: With a nod to the revered Greek columns, our plastic pedestal planters have a distinct allure that adds sophistication to any landscape. Whether gracing your porch or entryway or adorning a long walkway, these planters exude an unmatched sense of refinement.
Superior Plastic Blend: Crafted from a unique plastic blend, these urn planters offer the best of both worlds—classic beauty and contemporary functionality. Unlike cheap plastic imports, premium plastic ensures durability and longevity, ensuring that your planter withstands the test of time.
UV- and Shatter-Resistant: Designed to endure various weather conditions, these planters are UV-resistant, ensuring that their pristine appearance remains intact even when exposed to harsh weather. Additionally, their shatter-resistant property safeguards against accidental damage, making them ideal for homes with playful pets or children.
Detachable Base: Our plastic pedestal planters include a detachable base for convenient storage during colder months or when rearranging your outdoor space.
Environmentally-Friendly: Embracing eco-consciousness, plastic Grecian urn planters are crafted from BPA-free and recyclable materials. Proudly made in the USA, these planters align with sustainable practices and reduce their environmental impact.


Classic Colors That Embrace Modern Design
Classic color schemes play a pivotal role in further enhancing the timeless allure of Grecian urns. Our plastic Grecian planters use three traditional colors -- black, white, and stone.
Black plastic urns exude sophistication and modernity, adding a bold contrast to your vibrant plantings. These planters create a captivating focal point, beautifully accentuating the natural colors of your chosen flora.
On the other hand, white plastic urn planters exude elegance and purity, imparting a sense of serenity to your outdoor spaces. They complement various garden themes and harmonize effortlessly with vibrant and pastel blooms, creating an ethereal ambiance.
Stone-colored Grecian urn planters embody a sense of antiquity, paying homage to the historical roots of this design. This color scheme blends harmoniously with various plants, seamlessly connecting to nature and heritage.


Perfect for Indoor or Outdoor Use
The beauty of plastic urn planters lies in their unmatched versatility. With their lightweight design, these planters are easy to move around, allowing you to experiment with different layouts and designs. Whether hosting an intimate gathering or redesigning your living space, these planters effortlessly adapt to your changing needs.
Indoor Elegance: Bring a touch of ancient grandeur into your home with these plastic garden urns. Their majestic design perfectly complements your interior design, adding a formal and sophisticated touch to any room. Place them in your entryway to welcome guests with a sense of classical charm, or position them in your living room to create an eye-catching focal point.
Outdoor Grandeur: Transform your outdoor spaces into a picturesque haven with plastic Grecian urns. Inspired by ancient architecture, these planters add a formal touch to your garden, patio, or balcony. Whether you have a sprawling garden or a cozy urban terrace, these planters effortlessly enhance the visual appeal of your outdoor oasis.
Whether you envision a sophisticated indoor setting or a garden filled with classical charm, Grecian urn planters epitomize timeless elegance. Explore the various color options and planting possibilities to create a space that speaks to your unique style and taste.


Grecian Urns Offer Endless Planting Options
Like their taller classic plastic urn planters, there's no limit to what you can plant in our Grecian urns.
While classic boxwoods have been a timeless favorite for centuries, the planters can also accommodate taller plants like purple fountain grass, cordyline, and canna, providing an eye-catching focal point in your garden.
With its pedestal, cascading plants add dimension to plastic urn planters. For example, try sweet potato vines, lobelia, or petunias, another summer favorite.
Our plastic pedestal planters come with optional drill-out drainage holes to prevent potting soil from becoming too wet and damaging plant roots.


Combine Urn Planters with Other Planter Styles
Although urn planters typically convey a more formal sense, they still pair well with other planters. Use one with a railing planter on your balcony to create a garden oasis that offers some privacy for neighbors.
Or place two plastic urns in your front porch entryway with flower window boxes nearby to create dramatic curb appeal.
Read our blog to get some more ideas on how to use these urn planters.
How should I pot my plant?
Add a small amount of perlite medium on the bottom of the urn planter. Finish filling with a light to medium weight potting mix. Routinely adding plant food, according to plant's directions, will dramatically increase the health, beauty and longevity of the plants in your Grecian Urn Planters.
What is the Grecian Urn Planter made of?
The Grecian Urn is constructed from high-grade, durable plastic.
Is the Grecian Urn self-watering?
Do the Grecian Urn Planters have drainage holes?
There are optional, drill out drainage holes.
How much does the Grecian Urn Planter weigh?
The weight varies by size as follows:
12-Inch: 0.65 lbs.
18-Inch: 2.10 lbs.
Where is the Grecian Urn manufactured?
The Grecian Urn is proudly manufactured in the USA at our Lancaster, PA facility.
Do you ship outside the United States?
We ship internationally to Canada only. We recommend using a freight forwarding service, such as DHL, if you wish to order and ship outside of the U.S. or Canada. All shipments from our facility must be sent to a U.S.- or Canadian-based address.
| | |
| --- | --- |
| Order Total | Shipping Charge |
| | |
| | |
*Flat rate and free shipping only apply within the Contiguous U.S. All shipments outside the lower 48 United States will be charged a shipping cost.
Handling + Shipping Insurance - This $0.97 fee helps offset the rising costs we're incurring around fulfillment. It also allows us to continue offering free replacements for lost, stolen, or damaged packages. Although shipping carriers are usually the one at fault, they almost always put the burden back on businesses to cover those expenses.
PO Boxes - Please note that you must contact our Consumer Care team to place an order that ships to a PO box to ensure proper delivery. Failure to do so may result in a longer delivery time and additional shipping charges.
When will I receive my order?
An estimated range is provided at the top of this page. All items are shipped directly from our Lancaster, PA headquarters. Orders are typically processed and shipped in 1 business day via FedEx Home Delivery or USPS. You can also view this map from FedEx to estimate how long a shipment will take to arrive after it leaves our warehouse. We do not currently offer expedited shipping.
For more info, review our Shipping Policy and Return Policy in their entirety.