Cylinder Planter Pot Features:
Sleek, glossy black or white finish for a clean, minimalist & modern look
Deep planting space promotes root growth to keep plants healthy
Snap-on tray protects decks, patios, or indoor surfaces
Integrated drainage helps prevent root rot
Constructed with high-grade, durable plastic
Lightweight, fade-resistant, UV-protected, and shatter-resistant
BPA-free and recyclable
Proudly made in the USA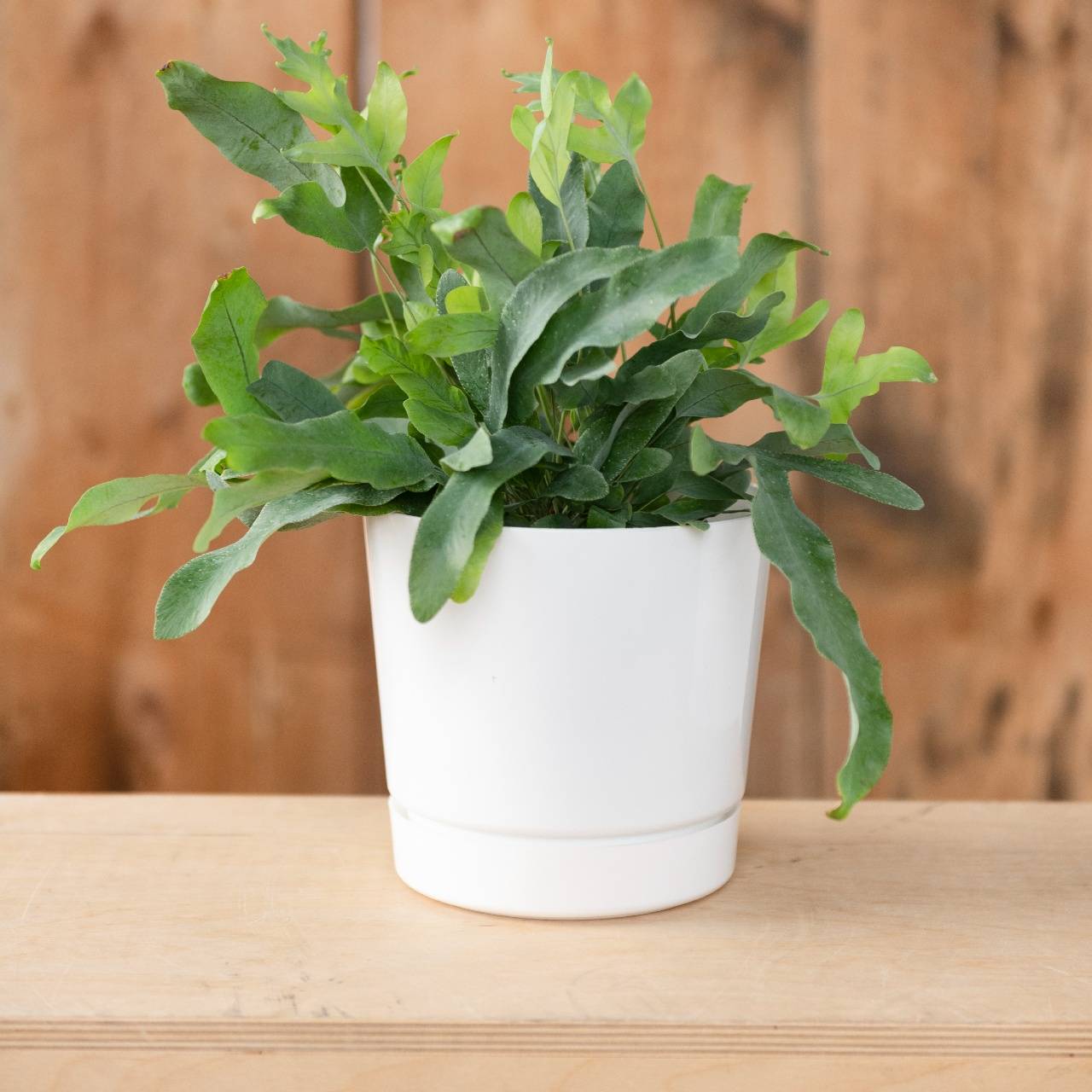 Are you a gardening enthusiast with an eye for sophisticated aesthetics? Look no further than our exquisite collection of cylinder plant pots that embody the timeless charm of mid-century modern style. With their clean and minimalist look, these sleek, glossy planters are sure to elevate the beauty of your garden and home.
Everything You Look for in a Cylinder Plant Pot
You can select from black or white cylinder pots. Either way, each boasts an array of features that make them a favorite among gardening lovers:
Smooth Finish: Our cylinder pots have a soft, lustrous finish that adds an elegant touch to any setting. Their minimalist style is especially perfect for contemporary and mid-century modern décor styles. Their unassuming appearance allows the focus to remain on the plants they hold, creating a harmonious visual appeal.
Deep Planting Space: A deep planting space promotes root growth to keep plants healthy: With ample room for roots to spread, these full-depth cylinder plant pots provide optimal conditions for your plant's health and development.
Snap-on Tray: Worried about water damage to your precious wooden deck or beautiful indoor flooring? Fear not! The built-in snap-on tray not only adds an extra layer of protection but also prevents any messy spills. Now you can enjoy your plants indoors and outdoors with peace of mind.
Integrated Drainage: A well-draining environment is essential for plant health. So our cylinder pots include an integrated drainage system that prevents excess water from pooling at the bottom. That safeguards plants against root rot and other water-related issues.
High-grade Plastic: Crafted from top-quality, sturdy plastic materials, our cylinder plant pots withstand the elements. They'll grace your garden for years to come, maintaining their allure and functionality. The plastic is fade-resistant, UV-protected, and shatter-resistant.
Lightweight: Even though they're durable, these decorative planters are light. So moving them around your garden or home is a breeze.
Multiple Sizes: You can select five sizes ranging from six to 14 inches. So, our cylinder planters fit anywhere. Mix and match the sizes to create depth and added appeal.


Cylinder Pots Add a Touch of Elegance Indoors or Out
The planter's sleek and contemporary style pairs wonderfully with various design themes, making them versatile additions to any space.
Black and white cylinder pots have become immensely popular in gardening and interior design due to their timeless appeal and versatility. These classic colors possess a unique ability to complement virtually any style or color scheme effortlessly.
The monochromatic nature of black and white pots exudes a sense of sophistication and elegance, making them an ideal choice for those seeking a clean and minimalist aesthetic. Additionally, these pots serve as the perfect backdrop, allowing the vibrant colors of plants and flowers to shine genuinely.
Outdoors, you can use cylinder planters as centerpieces or accents. Line them up along walkways or place them strategically on your patio for a stunning display of your favorite plants and flowers. Mix and match different sizes and colors of cylinder pots for a modern twist to create an eye-catching arrangement that showcases your creativity.
Indoors, bring the beauty of the outdoors inside your home by incorporating cylinder planters into your interior décor. With their snap-on trays, you can confidently place them on tabletops, shelves, or windowsills without worrying about water spills. Brighten your living spaces with lush greenery and vibrant flowers, adding a refreshing touch to any room.


Perfect Planter Pairings
Choosing the proper companions for your cylinder plant pots is essential to achieve a harmonious and visually appealing garden or home. Here are some beautiful pairings to consider:
Succulents and Cacti: Due to their shallow root systems, succulents and cacti are well-suited for cylinder planters. Pair these delightful plants with smaller-sized cylinder pots to create a lovely succulent garden. Their unique shapes and textures complement the sleek design of the planters, resulting in a captivating arrangement.
Snake Plant (Sansevieria): Known for their air-purifying properties, snake plants are excellent choices for larger-cylinder plant pots. Their vertical growth and striking foliage contrast the cylindrical shape, making them stand out as elegant focal points in your garden or home.
Peace Lily (Spathiphyllum): The elegant and graceful blooms of peace lilies add a touch of sophistication to any setting. Place them in medium-sized cylinder pots. Their white flowers, especially in concert with a black cylinder pot, will beautifully contrast against the planter's glossy finish, creating a stunning visual effect.
Bamboo: Consider pairing bamboo with tall cylinder pots for a touch of zen and tranquility. The sleek planters complement the elegant vertical growth of bamboo, making it a harmonious addition to contemporary spaces.
Proudly Made in the USA
These aren't cheap plastic imports. We make our cylinder plant pots right here in the U.S. We also make them with BPA-free, recyclable materials. So you can contribute to a sustainable future while enjoying your gardening passion.
Cylinder planters are more than just ordinary pots. Their mid-century modern design and exceptional features elevate them into statement pieces that transform any garden or interior space. With their deep planting space, integrated drainage, and protective snap-on tray, your plants will flourish while your surfaces stay clean and undamaged.
Pair a black or white cylinder pot with the right plants, and you'll have a stunning display that will impress any gardening lover. Embrace the charm of mid-century modern style and welcome the elegance of cylinder plant pots into your world of greenery.
How should I pot my plant?
Add a small amount of perlite medium on the bottom of the cylinder planter. Finish filling with a light to medium weight potting mix. Routinely adding plant food, according to plant's directions, will dramatically increase the health, beauty and longevity of the plants in your Majestic Full Depth Cylinder Pots.
What is the Majestic Cylinder Pot made of?
The Majestic Full Depth Cylinder Pot is constructed from high-grade, durable plastic.
Are the Cylinder Planters self-watering?
Do the Cylinder Pots have drainage?

Yes, there are built-in drainage holes.
How much do Cylinder Planters weigh?

The weight varies by size as follows:
6-Inch: 0.35 lbs.
8-Inch: 0.75 lbs.
10-Inch: 1.25 lbs.
12-Inch: 1.75 lbs.
14-Inch: 2.35 lbs.
Where is the Majestic Cylinder Pot manufactured?

The Majestic Full Depth Cylinder Pot is proudly manufactured in the USA at our Lancaster, PA facility.
Do you ship outside the United States?
We ship internationally to Canada only. We recommend using a freight forwarding service, such as DHL, if you wish to order and ship outside of the U.S. or Canada. All shipments from our facility must be sent to a U.S.- or Canadian-based address.
| | |
| --- | --- |
| Order Total | Shipping Charge |
| | |
| | |
*Flat rate and free shipping only apply within the Contiguous U.S. All shipments outside the lower 48 United States will be charged a shipping cost.
Handling + Shipping Insurance - This $0.97 fee helps offset the rising costs we're incurring around fulfillment. It also allows us to continue offering free replacements for lost, stolen, or damaged packages. Although shipping carriers are usually the one at fault, they almost always put the burden back on businesses to cover those expenses.
PO Boxes - Please note that you must contact our Consumer Care team to place an order that ships to a PO box to ensure proper delivery. Failure to do so may result in a longer delivery time and additional shipping charges.
When will I receive my order?
An estimated range is provided at the top of this page. All items are shipped directly from our Lancaster, PA headquarters. Orders are typically processed and shipped in 1 business day via FedEx Home Delivery or USPS. You can also view this map from FedEx to estimate how long a shipment will take to arrive after it leaves our warehouse. We do not currently offer expedited shipping.
For more info, review our Shipping Policy and Return Policy in their entirety.