MCM Planter Features:
Multipurpose, MCM planters have a soft matte finish
Complements any interior or exterior décor
Snap-on tray protects decks, patios, or indoor surfaces
Integrated drainage helps prevent root rot
Constructed with high-grade, durable plastic
Lightweight, fade-resistant, UV-protected, and shatter-resistant
BPA-free and recyclable
Proudly made in the USA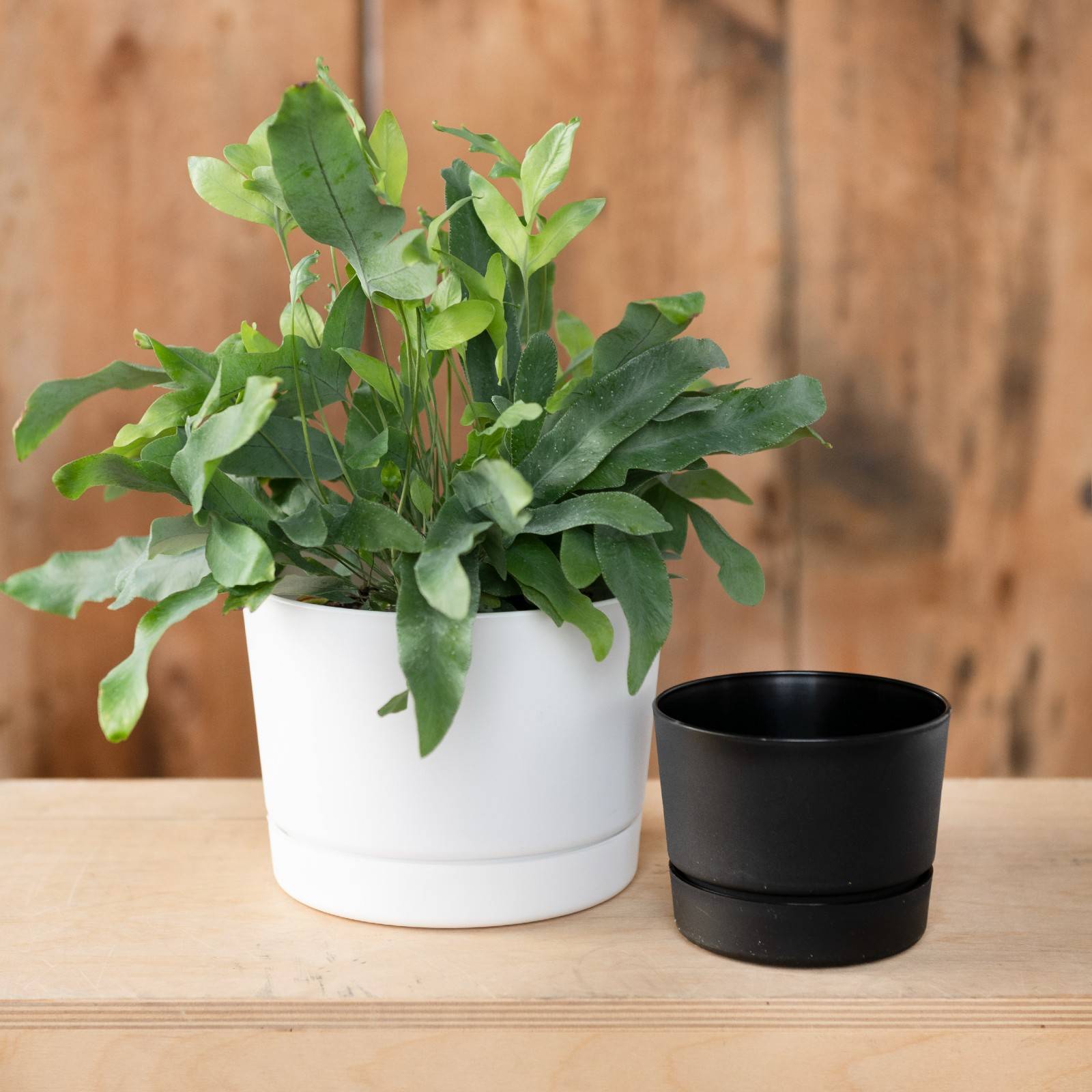 MCM planters, short for mid-century modern planters, embody mid-century design's timeless style and elegance. With their sleek lines, clean aesthetics, and functional features, these planters are perfect for gardening enthusiasts who appreciate the sophistication of mid-century modernism. While appealing to a wide range of individuals, these planters are particularly beloved by gardening enthusiasts seeking to enhance their living spaces with a touch of modern elegance.
MCM Planters Complement Today's Clean Design Style
At the core of MCM style is the emphasis on simplicity, functionality, and a harmonious blend of form and function. MCM planters effortlessly capture these principles, making them an ideal choice for those who desire a minimalist yet stylish addition to their indoor or outdoor gardens. The soft matte finish of these planters further enhances their mid-century appeal, exuding a sense of understated luxury.
One of the key features that sets MCM planters apart is their ability to complement any interior or exterior décor seamlessly. Even their colors, black and white, complement the essence of simple design, a hallmark of mid-century modern style.


The Simplicity of Black and White
The monochromatic color scheme of these decorative planters creates a sleek and minimalist aesthetic. By embracing the timeless combination of black and white, MCM planters achieve a sense of visual harmony and balance.
The use of black and white in cylinder pots allows for a clean and uncluttered look, emphasizing the form and shape of the plant itself. This simplicity highlights the natural beauty of the foliage and ensures that the focus remains on the plants rather than the container. Whether you choose a black or white cylinder pot, both options offer a timeless and versatile backdrop that complements various plant varieties.
Moreover, the simplicity of black and white cylinder pots allows for easy integration into various design styles. These classic colors effortlessly match contemporary, minimalist, and even traditional aesthetics. Whether you have a vibrant decor scheme or a more subdued palette, black and white cylinder pots will seamlessly blend into your surroundings.


Pick the MCM Planter Size That's Right For You
MCM planters are available in five sizes to cater to the diverse needs of gardeners. So you can choose plants of different sizes and growth habits. Whether you want to display a petite succulent or a tall, leafy plant, the variety of sizes ensures you can find the perfect fit.
The range of sizes also provides versatility in terms of placement. If you have limited space, the smaller cylinder pots are ideal for tabletops, shelves, or windowsills, allowing you to create green focal points in compact areas. On the other hand, the larger sizes are perfect for making a bold statement and can be placed on the floor to create a striking visual impact.
The various sizes also work in conjunction with your plant's growth. You can start with a smaller pot for young plants and easily transition to larger pots as they mature, ensuring their healthy development and longevity.


The Snap-on Tray Protects Surfaces
One notable feature is the integrated snap-on tray that accompanies each cylinder pot. The tray supports drainage to avoid waterlogging plant routes. Equally important, it provides built-in protection for your deck, patio, or indoor surfaces.
MCM planters can handle much more than cheap plastic because they're constructed with high-grade, durable plastic. Their lightweight nature makes them easy to move and rearrange according to your preferences. Additionally, the shatter-resistant quality provides peace of mind, allowing you to enjoy your plants without worrying about accidents or breakages.
The cylinder planters are stylish and practical and prioritize sustainability and environmental responsibility. Made from BPA-free and recyclable materials; they're an eco-friendly choice for conscious gardeners. By opting for MCM planters, you contribute to a greener future while still enjoying the beauty and functionality of your garden.


Made in the USA
As a testament to their commitment to quality and craftsmanship, MCM planters proudly bear the "Made in the USA" label. This ensures that every planter you bring into your home is carefully manufactured with attention to detail and meets the highest standards of excellence. That's why they carry our one-year guarantee.
If you like MCM planters, check out our full-depth cylinder pots. They provide greater depth to handle larger, more deep-rooted plants.
How should I pot my plant?
Add a small amount of perlite medium on the bottom of the cylinder planter. Finish filling with a light to medium weight potting mix. Routinely adding plant food, according to plant's directions, will dramatically increase the health, beauty and longevity of the plants in your Majestic Low Profile MCM Cylinder Pots.
What is the MCM planter made of?
The Majestic Low Profile Cylinder Pot is constructed from high-grade, durable plastic.
Is the Majestic Cylinder Pot self-watering?
Does the MCM planter have drainage holes?
Yes, there are built-in drainage holes.
How much does the MCM planter weigh?
The weight varies by size as follows:
4½-Inch: 0.15 lbs.
6½-Inch: 0.45 lbs.
8½-Inch: 0.62 lbs.
10½-Inch: 1.22 lbs.
12½-Inch: 1.92 lbs.
Where is the Majestic Cylinder Pot manufactured?

The Majestic Low Profile Cylinder Pot is proudly manufactured in the USA at our Lancaster, PA facility.
Do you ship outside the United States?
We ship internationally to Canada only. We recommend using a freight forwarding service, such as DHL, if you wish to order and ship outside of the U.S. or Canada. All shipments from our facility must be sent to a U.S.- or Canadian-based address.
| | |
| --- | --- |
| Order Total | Shipping Charge |
| | |
| | |
*Flat rate and free shipping only apply within the Contiguous U.S. All shipments outside the lower 48 United States will be charged a shipping cost.
Handling + Shipping Insurance - This $0.97 fee helps offset the rising costs we're incurring around fulfillment. It also allows us to continue offering free replacements for lost, stolen, or damaged packages. Although shipping carriers are usually the one at fault, they almost always put the burden back on businesses to cover those expenses.
PO Boxes - Please note that you must contact our Consumer Care team to place an order that ships to a PO box to ensure proper delivery. Failure to do so may result in a longer delivery time and additional shipping charges.
When will I receive my order?
An estimated range is provided at the top of this page. All items are shipped directly from our Lancaster, PA headquarters. Orders are typically processed and shipped in 1 business day via FedEx Home Delivery or USPS. You can also view this map from FedEx to estimate how long a shipment will take to arrive after it leaves our warehouse. We do not currently offer expedited shipping.
For more info, review our Shipping Policy and Return Policy in their entirety.