What to Grow in Railing Planters
Are you looking to add some color to your deck space? Or maybe you live in an apartment with limited planting space for flowers or a vegetable garden. Well, there's a convenient solution that won't cost you an arm and a leg – railing planters.
There's no limit to what you can grow using over-the-railing planters. They'll do the trick if you've been looking to dress up a dull deck space with some of your favorite flowers or want to grow some herbs to spruce up some of your dishes.
Over-the-railing planters are also a plus if critters like to chew your plants. Placing those plants on a deck railing gets them off the ground and provides protection.
The Best Materials for Railing Planters
Over-the-railing planters come in a variety of materials. If you're creative, you can even drum up a planter using household items like gallon milk jugs, bowls, and other plastic containers.
If you buy a railing planter online or from a local garden center, you'll want to pay attention to the planter's material.
Coco liners are popular and inexpensive. Typically, you insert the liners into a metal framed holder. One major pro of coco liners is their sustainability, as they're made from the husk of coconuts.
The liners also provide plants with exceptional aeration while retaining water. They're also pH neutral.
One word of caution: some liners are soaked in salt water. So, make sure you buy a liner for your planter rinsed in fresh water, or it could impact your plants. In addition, some coco liners may include chemical agents.
Metal railing planters look good but present some concerns. First, they'll rust. Second, that rust can oxidize and damage your plant's roots. Third, metal plant containers get hot. So, you'll need to water more frequently. Plus, the excess heat can burn your plants.
If you elect to use metal containers, make sure you use a planter box liner.
Wood over-the-railing planters add to a natural look. However, make sure you purchase quality planters, or they'll deteriorate quickly, and you'll have to replace them. Again, a planter box liner can come in handy.
Some wood planters can also contain harmful chemicals. But generally, wood railing planters are a sound choice, particularly if made from a water-resistant wood like cedar.
Plastic planters come in different colors and present an affordable option. But avoid cheap, lightweight plastics, as they won't hold up. Instead, opt for railing planters made from heavyweight plastics or a stone and resin blend like Artstone.
Mounting Your Planter
How you mount your railing planter depends mainly on your railing type. For example, if you have wooden deck railings, it's a simple task to use screws to secure the planter.
Brackets provide an excellent alternative if you prefer to avoid damaging your wooden railings with screws. For example, brackets can straddle the railing. In addition, some brackets use an L-shape to hang railing planters on one side of the railing.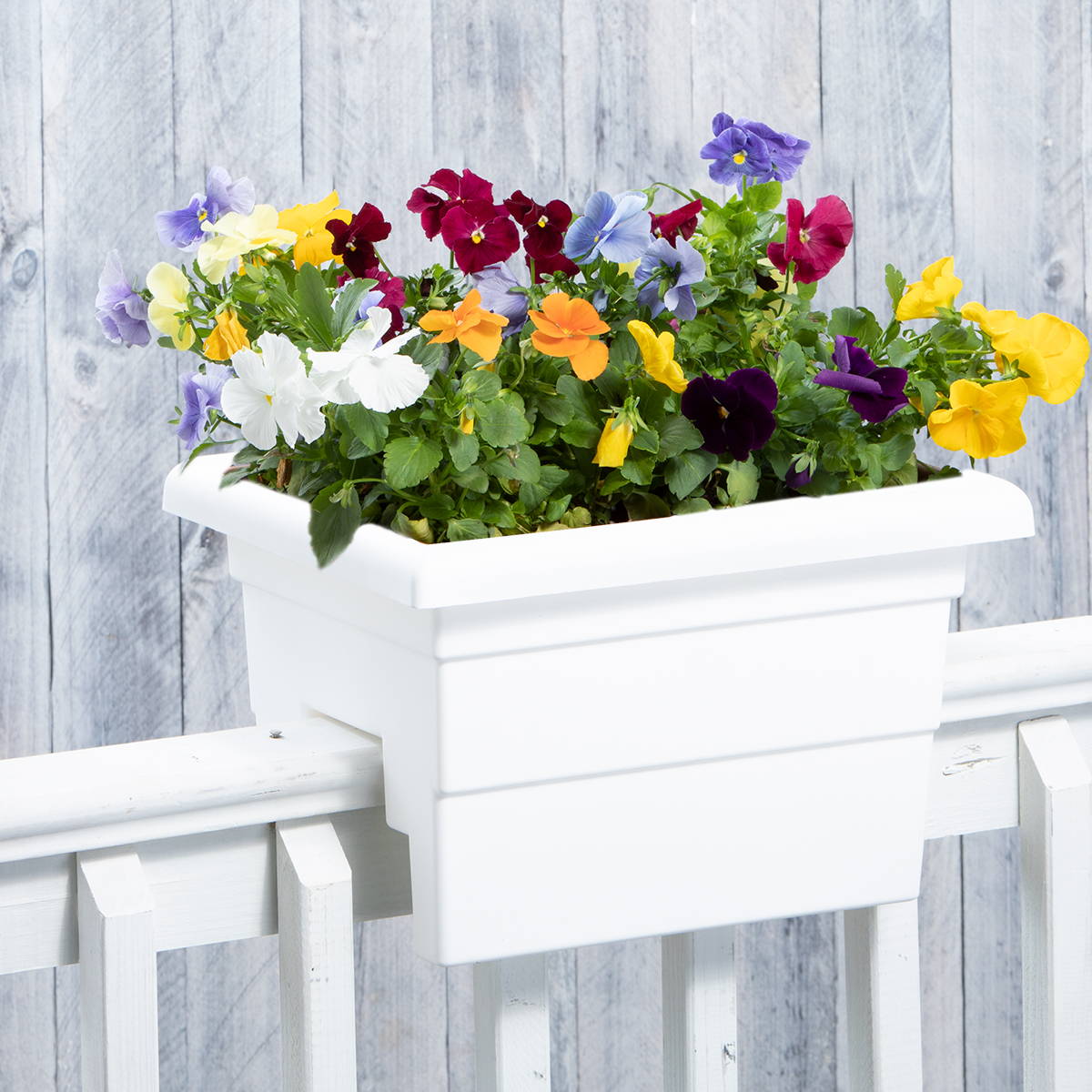 Some railing planters, like those from Root & Vessel, use a straddle-style design to create an over-the-railing planter. They fit securely over standard deck railings, including 2" x 4" and 2" x 6". In addition, the straddle design makes lifting and removing the planter boxes easy.
These planters are made from a high-grade plastic blend that's fade resistant. So, they'll never lose their color or become brittle from too much sun. Equally important, your plants will remain cool because the plastic railing planters won't absorb heat.
Planting Considerations
Like any planter, you need to pay attention to some basics to keep your plants healthy and productive.
First, understand the lighting conditions. Some plants will fare better in direct sunlight, while others prefer shade. Moreover, the more direct sunlight, the quicker the soil will dry out. So, you'll need to ensure your plants get a fresh drink of water more often.
If you're concerned about run-off from the drainage, you can place a drip tray under railing planters to catch any stray water. You'll also want to include a thick layer of mulch in the planter to help retain moisture.
Second, make sure your railing planter has adequate drainage. Most over-the-railing planters come with pre-drilled holes for drainage. If not, you'll need to drill holes. Otherwise, you risk root rot if the water sits in the planter's bottom with no means of escape.
Third, plants can deplete even the best potting soil of nutrients. So, replenish those nutrients with a good, slow-release fertilizer like Osmocote. It's available at most major retailers and garden centers.
Fourth, don't overplant. Here's a good rule of thumb:
Use three or four plants in 10 to 12-inch planters
Use four to six plants in 14 to 16-inch deck railing planters
Use six to eight plants in 16 to 20-inch railing planters
Popular Trailing Plants for Railing Planters
Let's start with flowers for those looking to add a color burst or greenery to your outdoor space. But, again, lighting conditions play a substantial role in plant selection. So, make sure you marry the plants to those conditions.
Because they're off the ground, railing planters are perfect for trailing plants. Mixed with more vertical plants, they add more dimension to the space and the planter. Consider using some of these reliable trailing plants: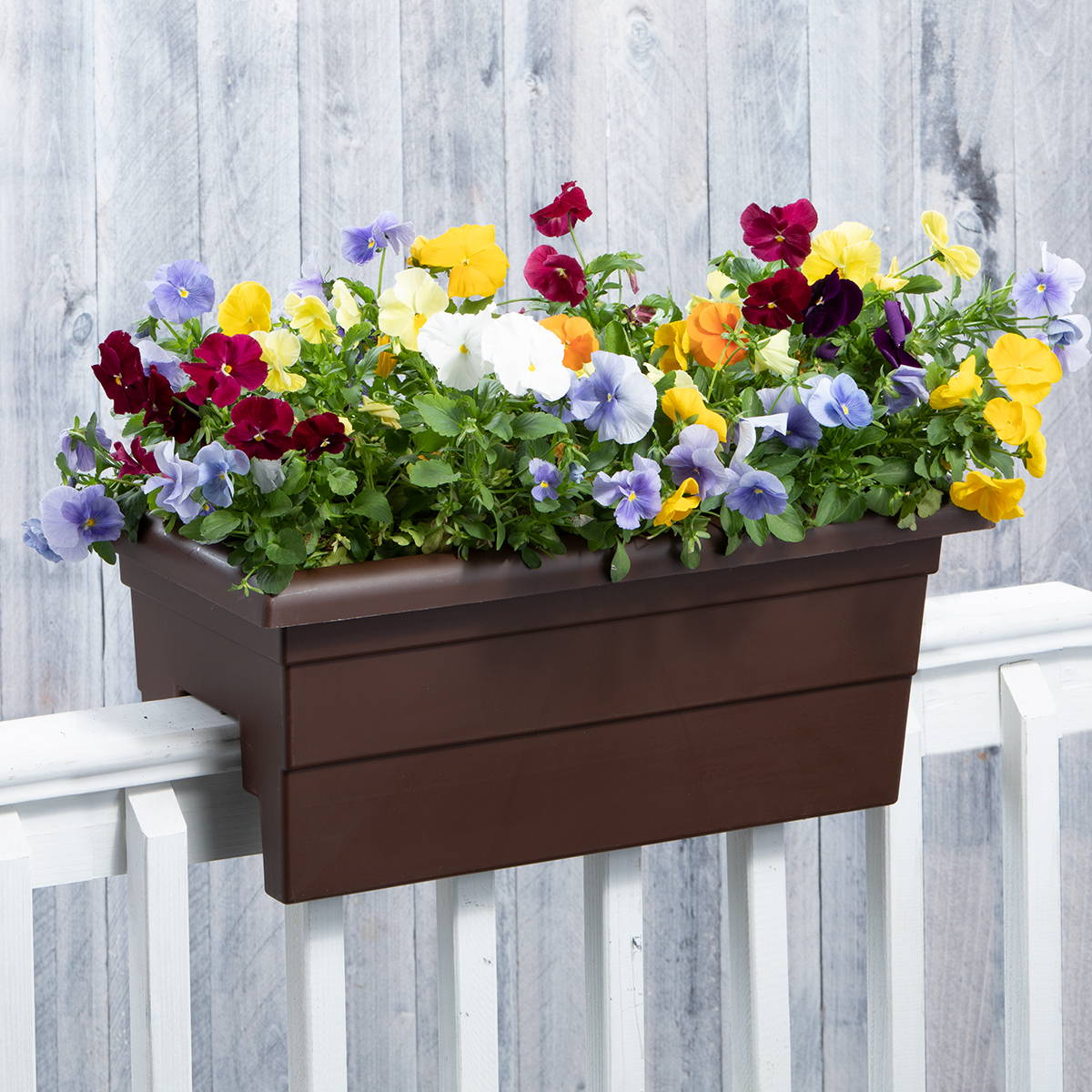 Petunias
Ivy
Sweet Potato Vine
Fuschia
Verbena
Calibrachoa
Vinca
Creeping Jenny
Lobelia
Begonia
The Best Flowers for Railing Planters
Use plants with different textures, colors, and fragrances. These are some favorites for over-the-railing planters.
Although these plants grow as annuals in higher planting zones, you can include perennials like heuchera and miniature conifers in railing planters.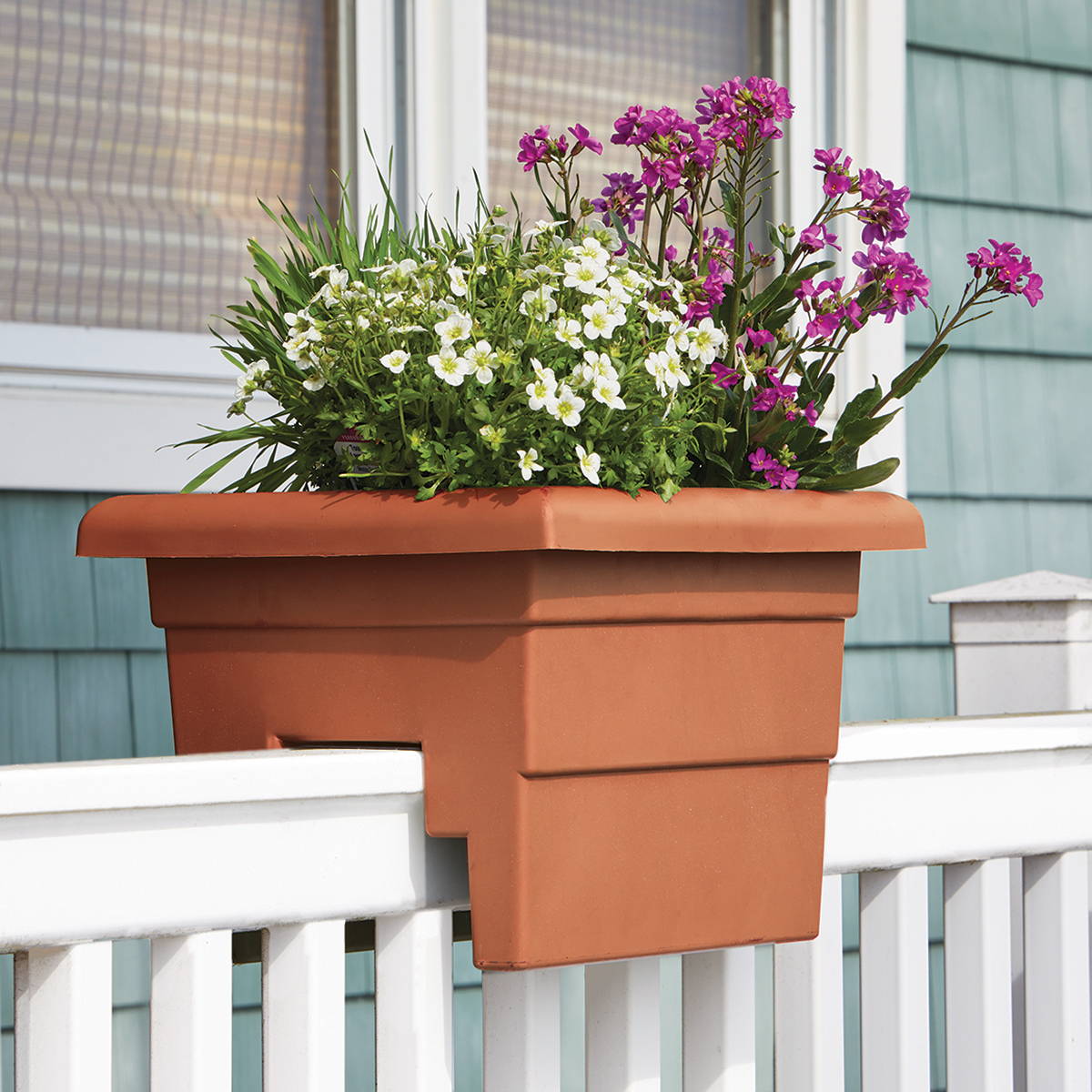 Dusty Miller: Their silver foliage contrasts nicely with colorful blooms. They're easy to grow, reaching heights of 6 to 18 inches, depending on the variety.
Licorice Plant: Like Dusty Miller plants, licorice plants add a silver hue to planters. They also have felted foliage.
Impatiens: Impatiens are typically known as shade-loving annuals. But Sunpatiens can handle full sun. Both come in numerous colors, including reds, pinks, whites, oranges, and purple.
Snapdragons: Available in solid or mixed colors, snapdragons add colorful spikes to deck railing planters.
Zinnias: A summertime favorite, zinnias come in several colors, many with large flower heads. They also attract pollinators like hummingbirds, bees, and butterflies.
Salvia: Another excellent pollinator, salvia is also drought tolerant. So, if you forget to water your railing planter, they'll stand a better chance of surviving than other plants.
Begonia: A shade-lover, begonias have waxy leaves surrounded by rose-like blooms in red, yellow, white, pink, and orange.
Coleus: Although coleus flowers, they're more prized for their colorful foliage. Versatile, coleus grows in the sun or shade with well-drained soil. They fill in gaps beautifully in a planter with their rich colors.
Geranium: A summer staple, geraniums are easy-care, abundant bloomers from spring until fall.
Lavender: Lavender adds tall spikes of purple flowers to any flower box with one added advantage. They smell awesome. They also attract bees and other pollinators.
Five Vegetables to Grow in a Planter
If you're looking for practical use, you can grow edible plants in railing planters. So you can have herbs near your grill ready to pick to spruce your favorite grilled foods. Or, if you have limited space, you can grow tomatoes, lettuce, and other nutritious plants in a mini garden.
Some of your best options for organic gardening include:
Tomatoes: You can readily grow them in railing planters, especially smaller varieties like cherry tomatoes. So, you can pick and eat delicious, juicy tomatoes whenever you like.
Carrots: Rich in vitamins, minerals, and antioxidants, carrots make an excellent railing veggie.
Herbs: Plant some of your favorite herbs and spices in a planting box. You can keep them on hand to add to any cuisine and give a burst of flavor.
Leafy Vegetables: Spinach and lettuce are easy to grow and harvest in planters. Spinach has numerous health advantages.
Peas: Apart from being nutritious to any mini garden, peas add unique greenery to a railing planter with their natural sprawl.
Your options don't end with these five. You can also fill your railing planters with radishes, turnips, Swiss chard, cucumbers, and zucchini.
Look to Root & Vessel for All Your Planters
Whether you're looking to plant indoors or out, Root & Vessel has various planters, including cache pots, urn planters, flower window boxes, and tub planters. You can learn more about selecting the right planters by reading our guide.
Plus, you can choose from a variety of shapes and sizes:
We also have accessories like watering cans, flower box trays, and planter box liners.