Windowsill Planters Features:
Decorative planter with a soft matte finish
12" size perfect for a mini garden, flower box, or multipurpose container
Holds three 4" pots and fits most interior window sills
Constructed with a durable blend of plastic
Lightweight, fade-resistant, UV-protected, and shatter-resistant
Two punch-out holes for drainage
The attached drainage tray protects surfaces
BPA-free and recyclable
Proudly made in the USA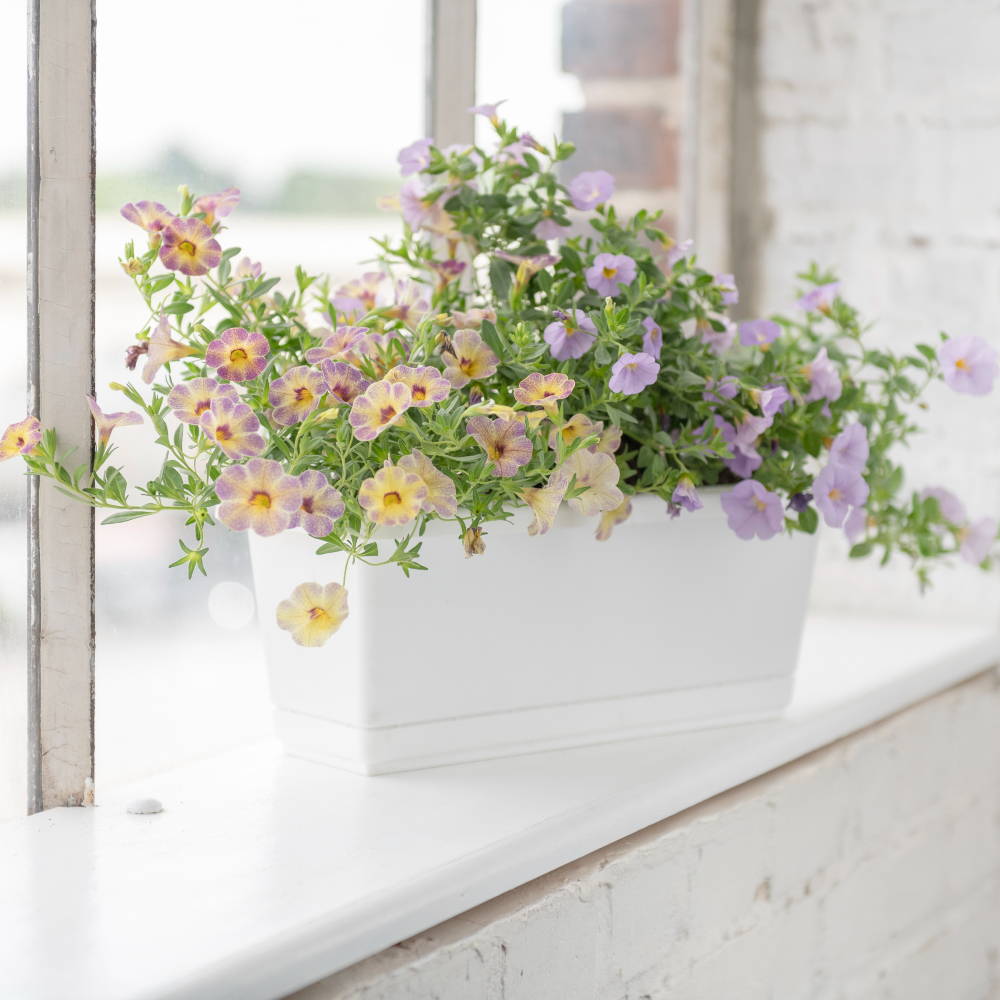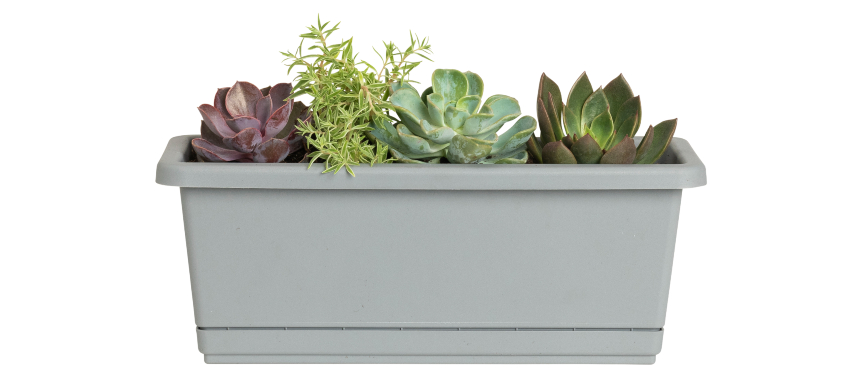 DIMENSIONS
Outside dims: 13" L x 5" W x 5" H
Inside dims: 11¾" L x 3¾" W x 4½" H
Add Life to a Boring Space with Windowsill Planters
Transform your home into a lush haven with our exceptional windowsill planters. Designed with gardening enthusiasts in mind, these planters offer a seamless blend of style and functionality, allowing you to unleash your creativity and bring nature's beauty indoors.
These decorative planters let you bring nature inside by planting greenery or flowers. They can also help revitalize a dull outside view.


A Versatile Solution for Greenery and Color
Tired of a dull and lifeless windowsill? Our 12-inch windowsill planters are the perfect antidote. Their decorative appeal and soft matte finish add a touch of sophistication to any space. Whether you have a compact apartment or a spacious house, these planters fit effortlessly. They're ideal for a mini garden, flower box, or multipurpose container.
For example, why not infuse your home with the fragrant scents of blooming flowers? Opt for aromatic plant varieties like lavender, alyssum, jasmine, or eucalyptus. Or use the windowsill planters for a lush floral display by planting beautiful flowers like geraniums, begonias, or dahlias to add color and charm to your living space.
You can even take a seasonal approach and update your windowsill planters to celebrate holidays. Add Christmas cactus, frosty ferns, rosemary, or a Norfolk pine to the planter.
Use hyacinths to capture a sweet aroma or bright yellow daffodils to accent your windowsill and celebrate spring. You can even create a mini-landscape that reminds you of a favorite destination. There's no limit on their uses.


Cultivate Your Favorite Herbs in a Windowsill Planter
Take your culinary adventures to the next level by growing your favorite herbs at your fingertips. The planter's four-inch depth lets you grow a variety of spices.
So you can cultivate various herbs, such as basil, thyme, sage, and more. Placing them on your indoor kitchen windowsill ensures easy access to fresh, flavorful ingredients that elevate your cooking. Imagine adding fresh basil to your homemade spaghetti sauce.


Durability and Convenience Combined
Our commitment to sustainability is reflected in the construction of our windowsill planters. They're BPA-free and recyclable, minimizing their environmental impact. Plus, they are proudly made in the USA, supporting local manufacturing and ensuring top-notch quality.
Crafted from a durable blend of plastic, our windowsill planters are built to withstand the test of time. They are lightweight, making it easy to move and rearrange your indoor garden as desired. The fade-resistant and UV-protected design ensures that your planters retain their vibrant colors, even when exposed to sunlight.


Colors that Fit Your Style
And speaking of colors, we understand that personal style matters. So our windowsill plants come in five elegant colors: gray, white, taupe, almond, and green. Choose the color that complements your home decor and reflects your unique taste.
You can ensure proper water flow while protecting your surfaces with two punch-out holes for drainage and an attached drainage tray. For even more protection, you can place a Countryside flower box tray under the windowsill planter for added protection.


Our Windowsill Planters Come with a Guarantee
Your satisfaction means everything to us. We stand behind the quality of our products. Root & Vessel® planters and accessories are guaranteed to be effective and free from defects for up to 1 year from the original purchase date. So you'll enjoy a planter that lasts. Stop staring at an empty windowsill. Add some pizzazz with these decorative planters.
How should I pot my plant?
Add a small amount of perlite medium on the bottom of the planter. Finish filling with a light to medium weight potting mix. Routinely adding plant food, according to plant's directions, will dramatically increase the health, beauty and longevity of the plants in your Majestic Windowsill Planter.
What is the Majestic Windowsill Planter made of?
The Majestic Windowsill Planter is constructed from high-grade, durable plastic.
Is the Majestic Windowsill Planter self-watering?
Does the Majestic Windowsill Planter have drainage holes?
Yes, there are 2 punch-out holes for drainage.
Where is the Majestic Windowsill Planter manufactured?
The Majestic Windowsill Planter is proudly manufactured in the USA at our Lancaster, PA facility.
Do you ship outside the United States?
We ship internationally to Canada only. We recommend using a freight forwarding service, such as DHL, if you wish to order and ship outside of the U.S. or Canada. All shipments from our facility must be sent to a U.S.- or Canadian-based address.
| | |
| --- | --- |
| Order Total | Shipping Charge |
| | |
| | |
*Flat rate and free shipping only apply within the Contiguous U.S. All shipments outside the lower 48 United States will be charged a shipping cost.
Handling + Shipping Insurance - This $0.97 fee helps offset the rising costs we're incurring around fulfillment. It also allows us to continue offering free replacements for lost, stolen, or damaged packages. Although shipping carriers are usually the one at fault, they almost always put the burden back on businesses to cover those expenses.
PO Boxes - Please note that you must contact our Consumer Care team to place an order that ships to a PO box to ensure proper delivery. Failure to do so may result in a longer delivery time and additional shipping charges.
When will I receive my order?
An estimated range is provided at the top of this page. All items are shipped directly from our Lancaster, PA headquarters. Orders are typically processed and shipped in 1 business day via FedEx Home Delivery or USPS. You can also view this map from FedEx to estimate how long a shipment will take to arrive after it leaves our warehouse. We do not currently offer expedited shipping.
For more info, review our Shipping Policy and Return Policy in their entirety.