Succulent Planter Features:
Sleek, modern trio planter with a soft matte finish
Perfect for herbs or succulents
Snap-in 4" mini square planters provide endless arrangement options
Constructed with a superior blend of plastic
Lightweight, fade-resistant, UV-protected, and shatter-resistant
Built-in tray protects surfaces
Integrated drainage holes help prevent root rot
BPA-free and recyclable
Proudly made in the USA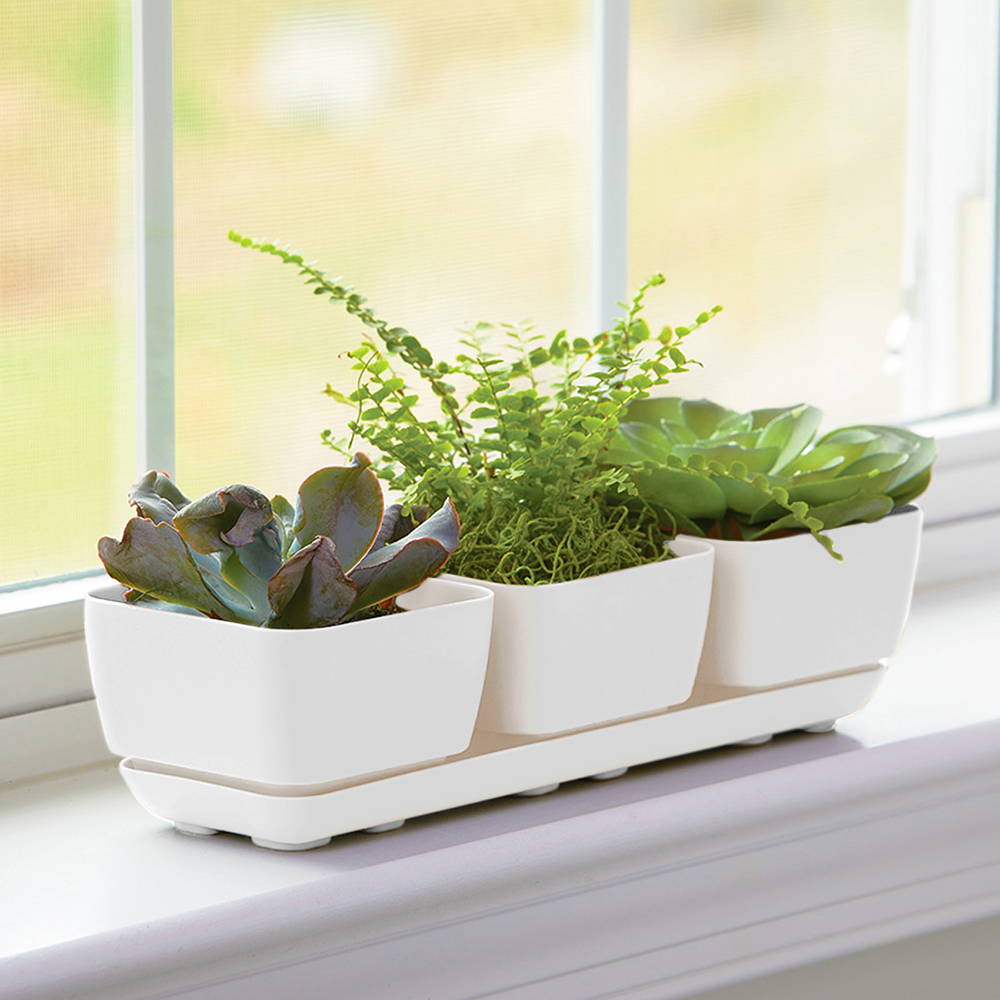 This modern, sophisticated, small planter has three separate growing areas to make for an imaginative assortment of plantings. Take the edible route and plant three different herbs or microgreens, place on a sunny windowsill and trim and use your plants as they grow. Go the decorative route by planting succulents and watch them thrive and beautify your space.
Each rounded-edge square vessel easily snaps into place on the tray. As water flows out of the built-in drainage holes on the mini planters, the tray will catch the excess water to protect your surfaces. For added functionality, air can move freely under the base of each planter to promote growth and prevent root rot. Choose between three neutral colors; grey, white, or taupe – all with a soft matte finish.
How should I pot my plant?
Add a small amount of perlite medium on the bottom of the planter vessels. Finish filling with a light to medium weight potting mix. Routinely adding plant food, according to plant's directions, will dramatically increase the health, beauty and longevity of the plants in your Majestic Trio Planter.
What is the Majestic Trio Planter made of?
The Majestic Trio Planter is constructed from high-grade, durable plastic.
Is the Majestic Trio Planter self-watering?
Does the Majestic Trio Planter have drainage holes?
Where is the Majestic Trio Planter manufactured?
The Majestic Trio Planter is proudly manufactured in the USA at our Lancaster, PA facility.
Do you ship outside the United States?
We ship internationally to Canada only. We recommend using a freight forwarding service, such as DHL, if you wish to order and ship outside of the U.S. or Canada. All shipments from our facility must be sent to a U.S.- or Canadian-based address.
| | |
| --- | --- |
| Order Total | Shipping Charge |
| | |
| | |
*Flat rate and free shipping only apply within the Contiguous U.S. All shipments outside the lower 48 United States will be charged a shipping cost.
Handling + Shipping Insurance - This $0.97 fee helps offset the rising costs we're incurring around fulfillment. It also allows us to continue offering free replacements for lost, stolen, or damaged packages. Although shipping carriers are usually the one at fault, they almost always put the burden back on businesses to cover those expenses.
PO Boxes - Please note that you must contact our Consumer Care team to place an order that ships to a PO box to ensure proper delivery. Failure to do so may result in a longer delivery time and additional shipping charges.
When will I receive my order?
An estimated range is provided at the top of this page. All items are shipped directly from our Lancaster, PA headquarters. Orders are typically processed and shipped in 1 business day via FedEx Home Delivery or USPS. You can also view this map from FedEx to estimate how long a shipment will take to arrive after it leaves our warehouse. We do not currently offer expedited shipping.
For more info, review our Shipping Policy and Return Policy in their entirety.