---
Caged Flower Window Box Features:
Timeless design with a matte finish and subtle satin banding
Deep growing space to keep plants healthy and vibrant
24" hunter green flower window box matches green wire cage
The cage is easy to install with included screws
Constructed with high-grade, durable plastic
Lightweight, UV-resistant, and shatter-resistant
Footed base and removable drainage plugs
BPA-free and recyclable
Proudly made in the USA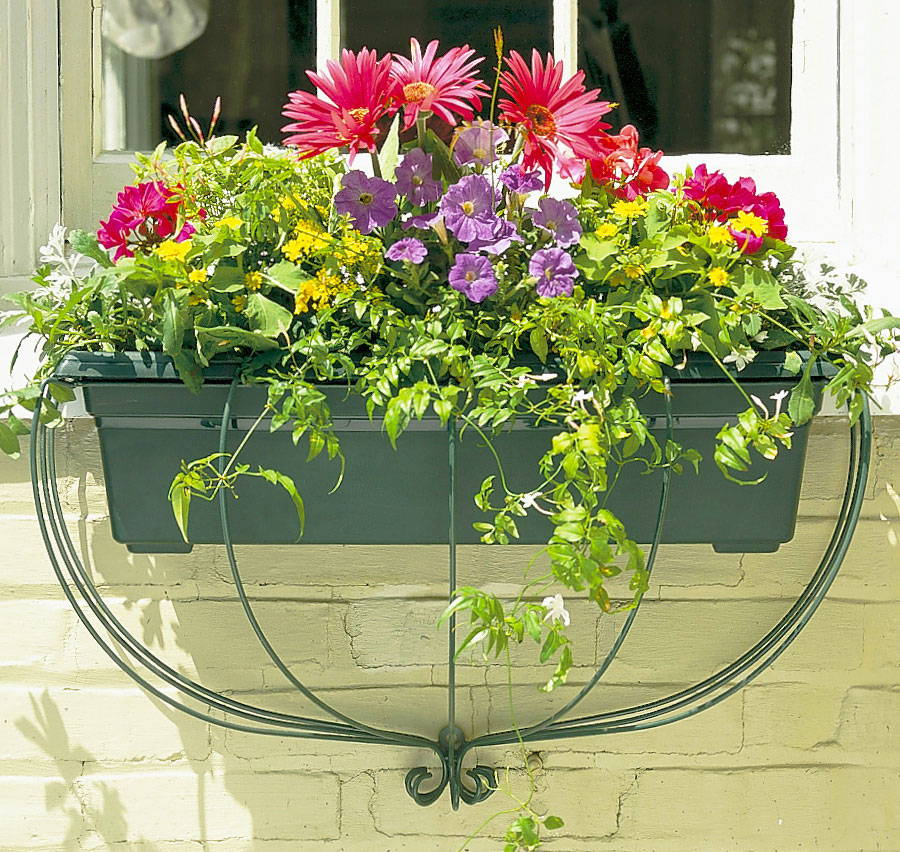 ---
---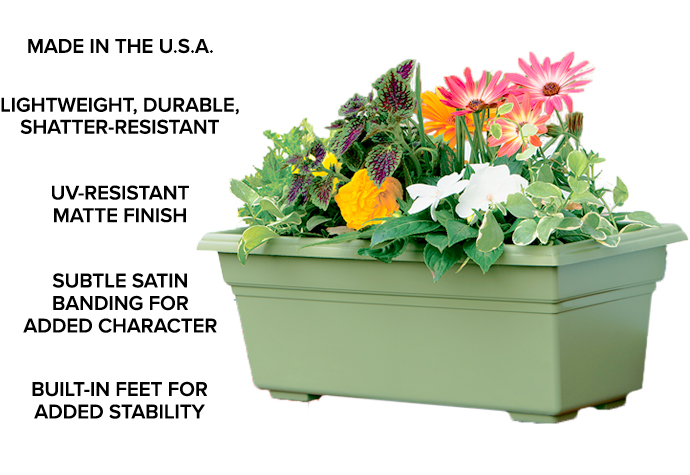 DIMENSIONS
24"

= 23¾" L x 8" W x 6½" H
Flower Window Boxes Complement Your Home
Whether you own a house or live in an apartment, flower window boxes charm while reflecting your style. They also add depth and dimension to an otherwise lifeless window.
From the inside, plants become part of your view of the outdoors. And from the outside, the decorative planter pots become part of your dwelling's architecture.
Plus, window flower boxes bring a change of perspective to your garden by putting greeneries, herbs, or flowers at eye level.
Why Include a Cage with Your Flower Box?
Adding a cage to the flower window box does two things.
First, it adds a decorative feature to the planter pot for a touch of elegance. Second, it lends support to taller or climbing plants.
For example, you can lay some of the plant's branches on the sides of the cage for greater support. Or you can train vines and climbing plants to grow in a direction by curling their tendrils around the cage's wire.
24-Inch Planter Pot Holds All Types of Plants
This caged flower window box is perfect for any space needing more life. With 24-inches of space, this hunter-green plastic planter pot makes once-boring rails, windowsills, decks, or any other mountable surface come to life.
Want a burst of color on the sunny side of your house? Add marigolds, petunias, zinnias, or geraniums. Looking to breathe life into a shady space? Use begonias, impatiens, coleus, or sweet potato vines. You can even create an edible garden using herbs of all types.
You can add even more greenery by adding other Root & Vessel favorite planter pots like our railing planters, Artstone flower box planters, tub planters, or cauldron planters. Use them on decks, patios, porches, and more.
The Window Flower Box Installs Easily
Easy to mount and even easier to assemble, installing the flower box cage is quick and straightforward. Place the box on top of the wire cage to mount under windows, or slide the planter box behind the cage and hang it from your wall. Screws included.
The Caged Flower Window Box is lightweight, UV-resistant, recyclable, and proudly made in the USA.
---
---
How should I pot my plant?
Add a small amount of perlite medium on the bottom of the flower box. Finish filling with a light to medium weight potting mix. Routinely adding plant food, according to plant's directions, will dramatically increase the health, beauty and longevity of the plants in your Countryside Flower Boxes.
What is the Caged Flower Window Box made of?
The Caged Flower Window Box is constructed from high-grade, durable plastic.
Is the Caged Flower Window Box self-watering?
Does the Caged Flower Window Box have drainage holes?
There is a removable rubber stopper on the bottom of the planter. When using outdoors, remove that to allow water to drain properly.
How much does the 24" Caged Flower Window Box weigh?
The 24-Inch Caged Flower Window Box weighs 0.95 lbs.
Where is the Caged Flower Window Box manufactured?
The Caged Flower Window Box is proudly manufactured in the USA at our Lancaster, PA facility.
Do you ship outside the United States?
We ship internationally to Canada only. We recommend using a freight forwarding service, such as DHL, if you wish to order and ship outside of the U.S. or Canada. All shipments from our facility must be sent to a U.S.- or Canadian-based address.
---
---
| | |
| --- | --- |
| Order Total | Shipping Charge |
| | |
| | |
*Flat rate and free shipping only apply within the Contiguous U.S. All other locations including AK, HI, US territories, Canada, and FPO/APO addresses require a custom shipping quote by contacting our Consumer Care team. Free shipping applies to standard ground shipping only.
PO Boxes - Please note that you must contact our Consumer Care team to place an order that ships to a PO box to ensure proper delivery. Failure to do so may result in a longer delivery time and additional shipping charges.
When will I receive my order?
An estimated range is provided at the top of this page. All items are shipped directly from our Lancaster, PA headquarters. Orders are typically processed and shipped in 1 business day via FedEx Home Delivery or USPS. You can also view this map from FedEx to estimate how long a shipment will take to arrive after it leaves our warehouse. We do not currently offer expedited shipping.
For more info, review our Shipping Policy and Return Policy in their entirety.
---